Apricot and Currant Chicken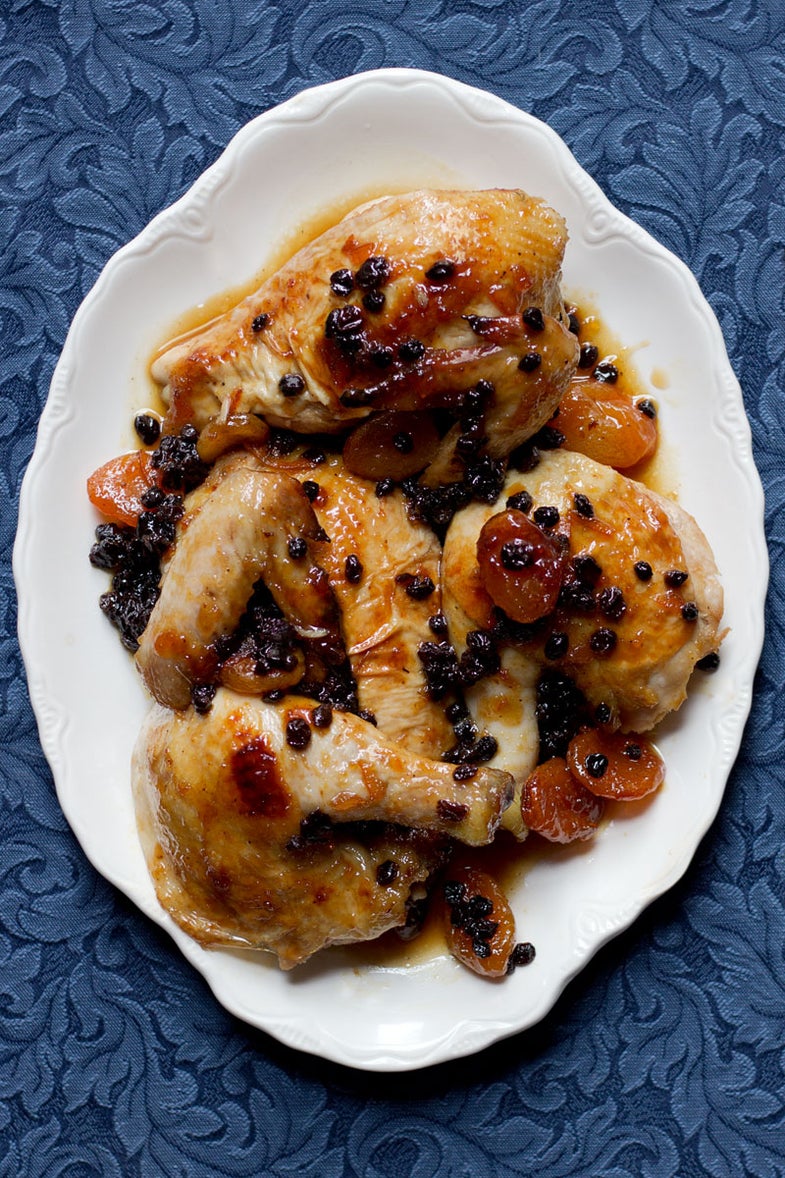 This recipe can easily be doubled or tripled for larger parties. It comes from The Silver Palate Good Times Cookbook by Julee Rosso and Sheila Lukins with Sarah Leah Chase.
Yield: serves 6-8
Ingredients
2 (2 1/2–3-lb.) chickens, quartered
Salt and freshly ground black pepper
1 tsp. ground ginger
1 1⁄2 cups bitter orange marmalade
1⁄3 cup apple juice
1⁄3 cup fresh orange juice
8 oz. (about 1 1/3 cups) dried pitted apricots
8 oz. (about 2 cups) dried currants
1⁄4 cup brown sugar
Instructions
Preheat oven to 375°. Put chicken, skin side up, in a large shallow roasting pan, generously season with salt and pepper, then sprinkle evenly with ginger. Spread marmalade over chicken. Pour apple and orange juices into pan. Transfer to oven and bake for 20 minutes.
Remove pan from oven and scatter apricots and currants into pan around chicken. Sprinkle brown sugar over dried fruits. Return pan to oven and bake, basting chicken frequently, until chicken is golden brown and shiny on top, about 45 minutes.
Transfer chicken, apricots and currants to a large serving platter. Spoon some of the pan juices over the chicken and dried fruits, and pour the remaining juices into a warm sauceboat.