Breakfast Trout with Bacon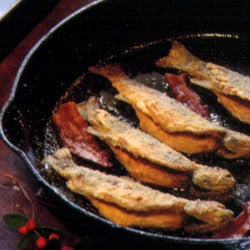 The wilderness of northern Maine offers plenty of outdoor activities, among them trout fishing. Rising early is imperative, but the rewards are worth it: the thrill of the catch, and a hearty breakfast like this one.
Breakfast Trout with Bacon
There are few better ways to start the day than with a meal of freshly caught trout.
Ingredients
4 thick slices bacon
4 (8–10-oz.) trout, cleaned, heads and tails on
1 cup yellow cornmeal
Salt and pepper
1⁄3 cup vegetable oil
Instructions
Fry bacon in a large, heavy skillet until brown and crisp, about 15 minutes. Drain on paper towels and set aside. Reserve bacon fat in pan.
Rinse fish and dredge in cornmeal. Salt and pepper both sides to taste. Add vegetable oil to the bacon pan. Heat the pan until very hot, then fry fish in oil and fat for about 5 minutes. Carefully turn the fish (a wide, long spatula is ideal for the task), then cook the other side. Shake the pan frequently to ensure that the fish doesn't stick. Trout should be golden and crisp on the outside, moist and tender inside. (If your pan is too small, cook fish in batches and keep warm in a low oven.) Serve 1 trout per person, garnished with bacon.