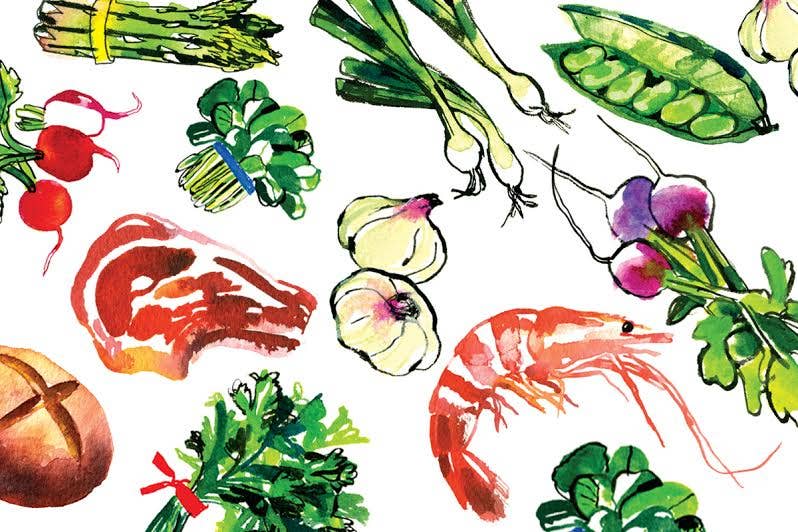 This recipe for satay, from Oseland's book Cradle of Flavor, comes from Malaysia, where the dish is commonly found at nighttime food markets. Although satay in the U.S. is typically served with a peanut sauce, Oseland recommends that you eat it unadorned so that the aroma and flavor of the marinade will come through loud and clear. If you don't have a grill, you may broil the satay.
**1 tbsp. coriander seeds
1 tbsp. fennel seeds
6 tbsp. peanut oil, plus more for grill
4 tbsp. thinly sliced Indonesian palm sugar or
dark brown sugar
Scant 1 tbsp. ground turmeric
1 1⁄2 tsp. kosher salt
5 shallots (about 3 3⁄4 oz.), coarsely chopped
3 cloves garlic, coarsely chopped
2 thick stalks fresh lemongrass, hard top and
bottom ends removed, tough outer layers
peeled, and very thinly sliced crosswise
1 piece fresh or thawed frozen galangal,
1" long, peeled and thinly sliced against
the grain, about 1 tbsp. (optional)
1 piece fresh ginger, 2" long, peeled and
thinly sliced against the grain, about 2 tbsp.
3 1⁄4 lbs. bone-in chicken thighs, skinned and boned
About 30 sharp, thin, 10" bamboo skewers,
soaked in water for 30 minutes and drained
**
1. Grind coriander and fennel to a powder in a small food processor. Add 2 tbsp. oil, sugar, turmeric, salt, shallots, garlic, lemongrass, galangal, ginger, and 2 tbsp. water and pulse to a smooth paste. Transfer marinade to a large bowl.
2. Cut chicken into 1"-wide and 1⁄4"- 1⁄3"-thick pieces (each should be 2"-3" long). Mix chicken with marinade; marinate at room temperature for 1-2 hours.
3. Using 1-4 pieces of chicken per skewer, thread strips onto skewers, weaving point in and out through center of each piece about every 1⁄2" to make sure it remains secure.
4. Prepare a medium-hot charcoal fire; oil grates. Place skewers on grill, making sure that the chicken, not the exposed skewers, is directly over heat. Grill chicken, turning once and basting with remaining oil occasionally, until golden brown and cooked through, 3-7 minutes per side.
5. Transfer satay to a serving dish; let rest until cool enough to handle. Serve immediately.