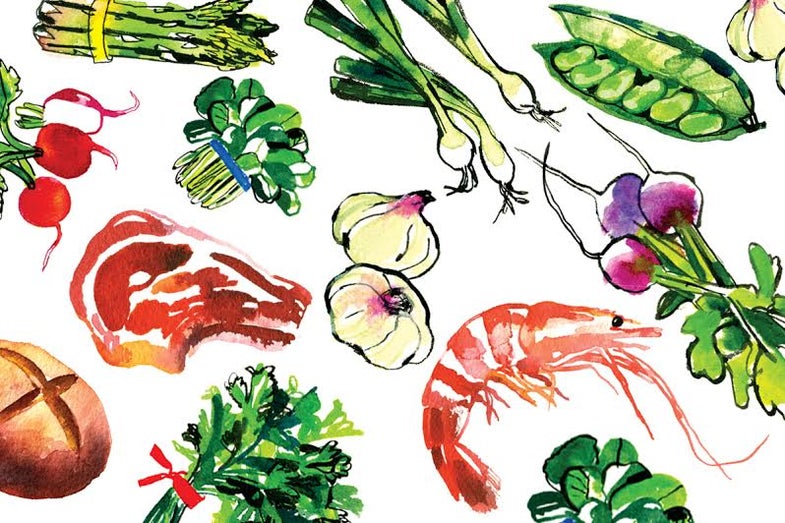 You can use a mix of dense, waxy potatoes like chaleurs and floury russets for this hearty mash.
Yield: serves 4-6
Ingredients
2 lb. waxy potatoes
1 lb. russet potatoes
12 cloves garlic, peeled and crushed
1 cup buttermilk
1⁄4 cups heavy cream
10 Tbsp. butter
1⁄2 tsp. chopped fresh winter savory
1⁄2 bunches chopped chives
Sea salt and freshly ground pepper to taste
Instructions
Put peeled potatoes and crushed garlic cloves into a large pot of cold water and gently boil over medium heat until tender, about 40 minutes. Reserve 1⁄2 cup of the potato cooking water and drain potatoes and garlic in a colander.
Preheat oven to 425°. Bring the buttermilk and heavy cream to a simmer in a saucepan over medium heat (mixture will separate and look curdled), and then set aside.
Return potatoes and garlic to a large pot over medium-low heat and season to taste with sea salt and pepper. Pour in three quarters of the hot buttermilk and cream and mash potatoes coarsely with a potato masher. Thin mashed potatoes with remaining hot buttermilk and some of the reserved cooking water, if you like.
Stir in 6 tbsp. of the butter, fresh winter savory and chives. Adjust seasonings.
Divide mashed potatoes between 4-6 individual gratin dishes or 1 large baking dish and drizzle with remaining 4 tbsp. melted butter. Transfer to oven and bake until lightly browned, about 20 minutes.