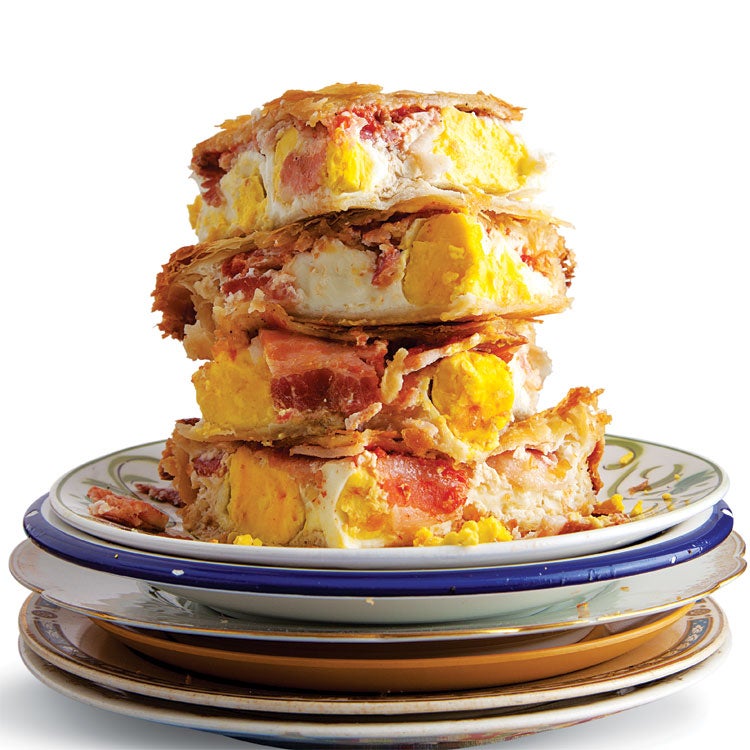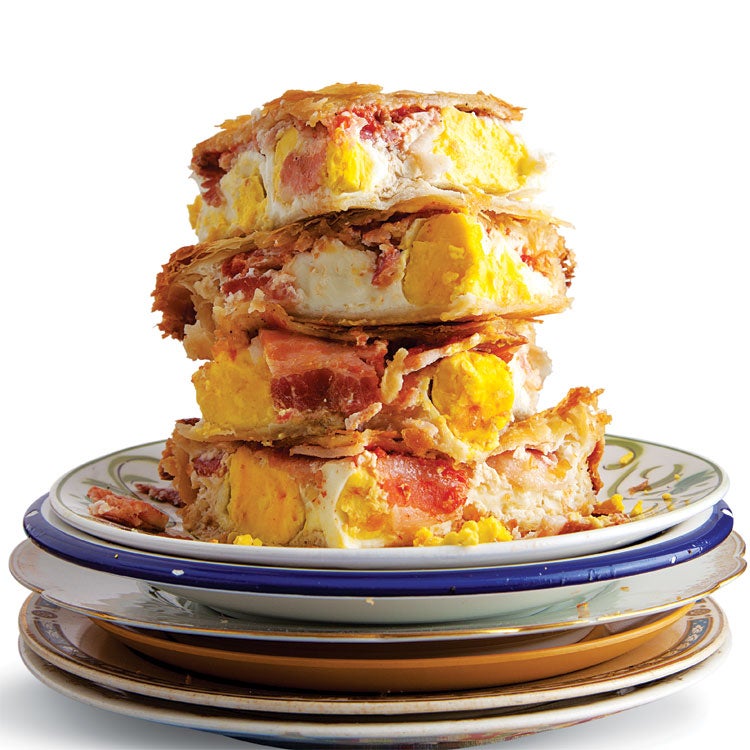 I associate bacon and egg pie above all with summer and sheepshearing at my grandparents' farm in New Zealand. My grandmother would make a pie in the morning and keep it wrapped in kitchen towels until lunchtime, when we'd all come in from the shearing shed. The kettle would go on for tea, and we'd eagerly unwrap the still-warm baking dish. The flaky pastry, the canary-yellow yolks, the salty bacon—it's a combination with cross-cultural appeal, I've found. In New York City, where I now live, I regularly take this Kiwi classic along to brunches and potlucks, and there's never a slice left when I head home. —Victoria Ross, freelance writer
Bacon and Egg Pie
Bacon and eggs, baked into a puff pastry case with an umami-rich ketchup glaze is an easy way to serve a hungry-man breakfast to a crowd.
Ingredients
1⁄2 cup ketchup
1⁄4 cup Worcestershire sauce
2 sheets (9″ x 11″) frozen puff pastry, thawed and chilled
20 eggs
1 tbsp. heavy cream
1 lb. sliced bacon, roughly chopped
Kosher salt and freshly ground black pepper, to taste
Instructions
Heat oven to 400°. Whisk together ketchup and Worcestershire in a small bowl; set aside. Using a rolling pin, roll one sheet of puff pastry on a floured work surface to form an 11″ x 14″ rectangle; transfer to a 9″ x 12 1⁄2″ baking pan and let excess hang over sides. Separate 1 of the eggs and place the egg yolk in a small bowl; stir in cream, and set egg wash aside. Place remaining egg white on top of pastry, crack the eggs and drop them on top of pastry, spacing them evenly apart, and sprinkle evenly with bacon; drizzle ketchup mixture evenly over eggs and bacon, and season with salt and pepper.
Fold dough hanging over the edge of the pan back over the ingredients and brush with some of the egg wash; roll second pastry sheet into a 10″ x 13″ rectangle and place on top of eggs and bacon, tucking edges into sides of pan. Cut 4 slits in the top of the pastry with a paring knife, and then brush completely with egg wash. Bake until golden brown and eggs and bacon are cooked through, about 1 hour; cut into squares to serve.