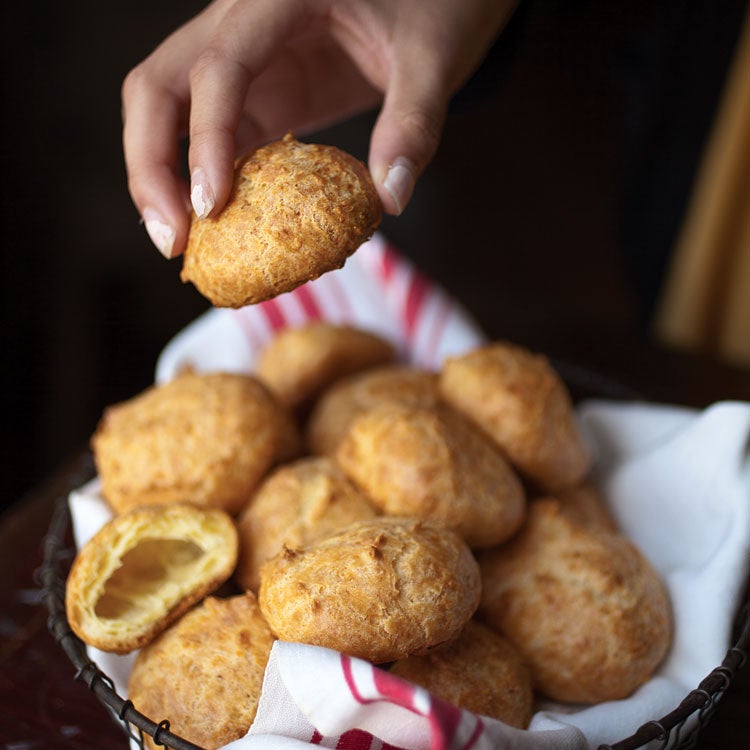 When you are 20, living in Paris, and subsisting on buttered baguettes and Gitanes, dinner out anywhere is a treat. One arranged for you by your generous godfather at the legendary restaurant Taillevent is a miracle. I'll never forget the meal's opening salvo, a silver tray holding burnished Gruyere pastry puffs called gougeres, which arrived steaming from the oven, exuding the swoon-inducing scent of toasted cheese. They were featherlight, tender, and silky with eggs and butter, far more fragile than my familiar baguettes yet far more savory. Tasting such intense flavor in a tiny wisp of choux pastry was astonishing, a promise of the wonders still to come. —Elizabeth Gunnison, a New York-based writer
Gougères (Cheese Puffs)
These burnished Gruyère pastry puffs, when steaming from the oven, exude the swoon-inducing scent of toasted cheese.
Ingredients
1⁄2 cup milk
8 tbsp. unsalted butter, cubed
1⁄2 tsp. kosher salt
1 cup flour
4 eggs, at room temperature
6 oz. Gruyère cheese, grated
Instructions
Heat oven to 425° and line 2 large baking sheets with parchment. Bring milk, butter, salt, and 1⁄2 cup water to a boil in a 4-qt. saucepan over high heat. Add flour; stir until dough forms. Reduce heat to medium; cook, stirring dough constantly with a wooden spoon, until slightly dried, 2–3 minutes. Transfer to a bowl; using a hand mixer, beat in 1 egg until smooth. Repeat with remaining eggs, beating each one at a time, until dough is smooth; stir in cheese.
Use a 1-ounce scoop or 2 spoons to portion 2-tablespoon scoops of dough onto the prepared baking sheets, leaving at least 2 inches of space between each. Quickly transfer the gougers to the oven and immediately reduce the temperature to 375°. Bake until golden brown, 25–30 minutes.