Coquilles St-Jacques (Gratinéed Scallops)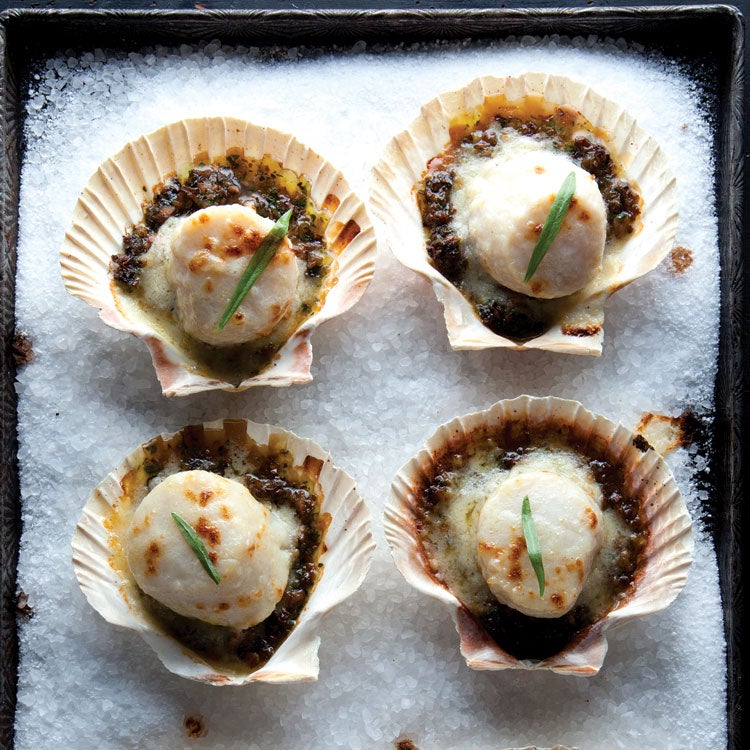 Although coquilles St-Jacques simply means "scallops" in French, in the idiom of American cooks, the term is synonymous with the old French dish of scallops poached in white wine, placed atop a purée of mushrooms in a scallop shell, covered with a sauce made of the scallop poaching liquid, and gratinéed under a broiler. This rich, classic recipe was a signature dish of most of the small French restaurants in New York when I came here in the late 1950s. While working at Le Pavillon back then, I must have made it thousands of times. These days, most chefs, myself included, have moved away somewhat from that dish, favoring lighter preparations. But I'll tell you one thing: last time I made coquilles St-Jacques, it was for students at Boston University. I prepared two dishes for them: scallops cooked in a modern way, served with a green herb salad, and also the classic, gratinéed version. Now, these were not chefs-in-training; they didn't know what they were supposed to like. And there wasn't one student who didn't choose the old way over the new. It just goes to show: Truly good food never really goes out of style. —Jacques Pepin, chef, cookbook author, and PBS-TV cooking series host
Coquilles St-Jacques (Gratinéed Scallops)
This classic preparation of wine-poached scallops, broiled abed mushroom purée with a rich cream sauce, will give you new found appreciation for the old ways.
Ingredients
8 oz. button mushrooms, minced
6 tbsp. unsalted butter
3 small shallots, minced
2 tbsp. minced parsley
1 tbsp. minced tarragon, plus 6 whole leaves, to garnish
Kosher salt and freshly ground black pepper, to taste
3⁄4 cup dry vermouth
1 bay leaf
6 large sea scallops
2 tbsp. flour
1⁄2 cup heavy cream
2⁄3 cup grated Gruyère
1⁄2 tsp. fresh lemon juice
Instructions
Heat mushrooms, 4 tbsp. butter, and 2⁄3 of the shallots in a 4-qt. saucepan over medium heat; cook until the mixture forms a loose paste, about 25 minutes. Stir parsley and minced tarragon into mushroom mixture; season with salt and pepper. Divide mixture among 6 cleaned scallop shells or shallow gratin dishes. Bring remaining shallots, vermouth, bay leaf, salt, and 3⁄4 cup water to a boil in a 4-qt. saucepan over medium heat. Add scallops; cook until barely tender, about 2 minutes. Remove scallops; place each over mushrooms in shells. Continue boiling cooking liquid until reduced to 1⁄2 cup, about 10 minutes; strain. Heat broiler to high. Heat remaining butter in a 2-qt. saucepan over medium heat. Add flour; cook until smooth, about 2 minutes. Add reduced cooking liquid and cream; cook until thickened, about 8 minutes. Add cheese, juice, salt, and pepper; divide the sauce over scallops. Broil until browned on top, about 3 minutes; garnish each with a tarragon leaf.
See all 150 classic recipes featured in our 150th issue »