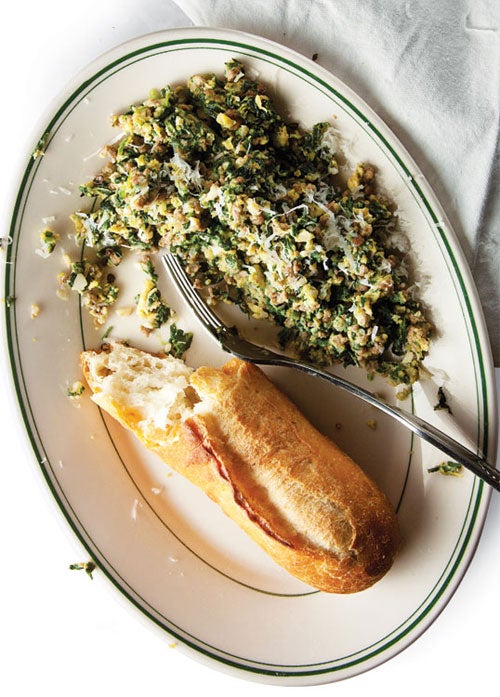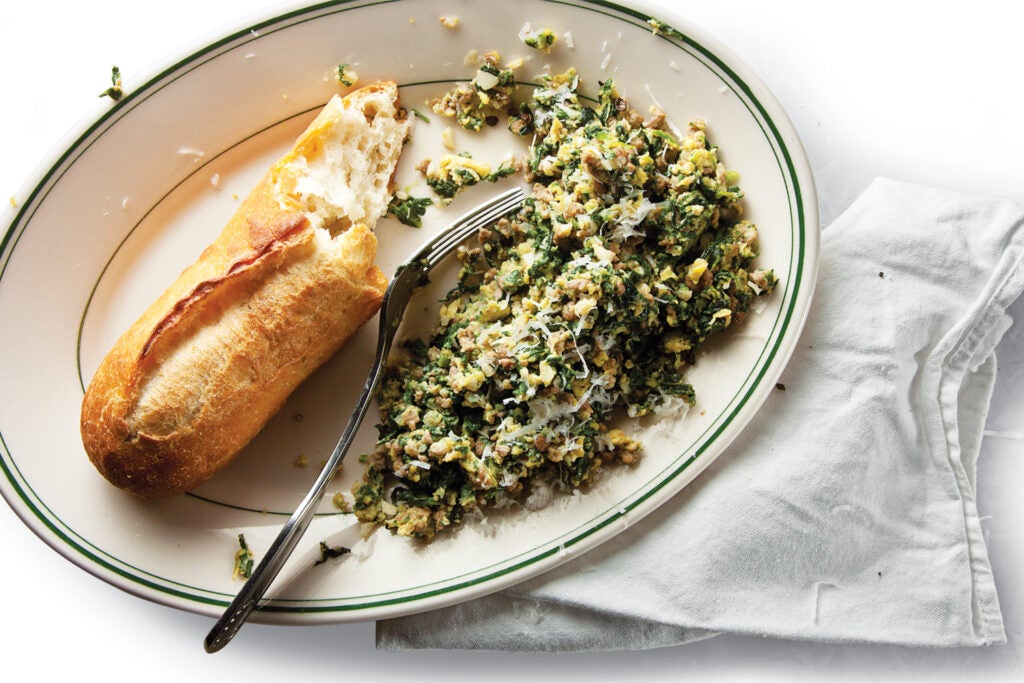 Joe's Special is one of the most odd and divine scrambles known to man. Consisting of egg, garlic, spinach, and ground beef, the dish originated in San Francisco in the 1920s, at a long-gone Italian-American restaurant, New Joe's. Later, it was the signature dish of a Bay Area chain called Original Joe's—and a standby for countless home cooks in Northern California, including my mom. At least once a month, we ate it for dinner, and I still make it, as there are few dishes so appealing and comforting to eat. —James Oseland Get the recipe for Joe's Special »
Joe's Special is one of the most odd and divine scrambles known to man. Consisting of egg, garlic, spinach, and ground beef, the dish originated in San Francisco in the 1920s, at a long-gone Italian-American restaurant, New Joe's. Later, it was the signature dish of a Bay Area chain called Original Joe's—and a standby for countless home cooks in Northern California, including my mom. At least once a month, we ate it for dinner, and I still make it, as there are few dishes so appealing and comforting to eat. —James Oseland
Joe's Special
Joe's Special is one of the most odd and divine scrambles known to man. Consisting of egg, garlic, spinach, and ground beef, the dish originated in San Francisco in the 1920s, at a long-gone Italian-American restaurant, New Joe's.
Ingredients
2 tbsp. olive oil
5 cloves garlic, minced
1 medium yellow onion, finely chopped
8 oz. ground chuck
1 (10-oz.) package frozen chopped spinach, thawed and squeezed dry in paper towels
8 eggs, lightly beaten
1⁄4 cup finely grated Parmesan
Crusty Italian bread, for serving
Kosher salt and freshly ground black pepper, to taste
Instructions
Heat oil in a 12″ skillet over medium-high heat. Add garlic and onion; cook until soft, about 5 minutes. Add chuck; cook, stirring, until browned and all moisture evaporates, about 10 minutes. Add spinach; cook until heated through, about 2 minutes. Add eggs; cook until eggs are cooked and mixture is slightly dry, about 4 minutes. Season with salt and pepper; sprinkle with Parmesan. Serve with bread.