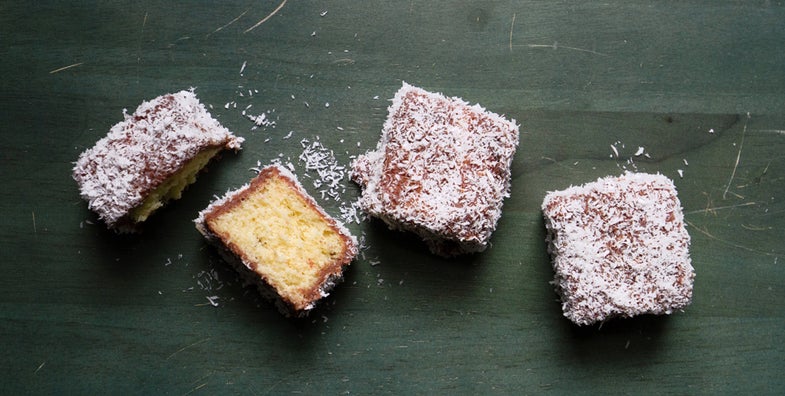 Likely named for a 19th-century governor of Queensland, the Lamington is now an Australian favorite. It's a cube of butter cake dipped in chocolate, then rolled in coconut flakes. Though some versions are filled with cream or jam, we purists believe the original is impossible to improve upon. —Fouad Kassab, author of thefoodblog.com.au
Lamingtons
Likely named for a 19th-century governor of Queensland, these chocolate- and coconut-enrobed cubes of cake are now an Australian favorite.
Ingredients
8 tbsp. unsalted butter, melted, plus more for pan
1 cup flour, plus more for pan
1 tsp. baking powder
1⁄2 tsp. kosher salt
1 cup sugar
3 eggs, separated
1 tsp. vanilla extract
8 oz. milk chocolate, chopped
1⁄2 cup heavy cream
8 oz. unsweeted shredded coconut
Instructions
Heat oven to 350°. Grease and flour an 8″ x 8″ baking pan; set aside. Whisk flour, baking powder, and salt in a bowl; set aside. In a large bowl, whisk sugar and egg whites until soft peaks form. Add butter, egg yolks, and vanilla; fold until combined. Add dry ingredients; fold until smooth. Pour into prepared baking pan; smooth top. Bake until a toothpick inserted in the middle comes out clean, about 20 minutes; cool 20 minutes. Invert cake onto a rack; cool completely. Cut into 16 squares; set aside.
Place chocolate in a bowl. Boil cream in a 2-qt. saucepan over high heat; pour over chocolate and let sit for 1 minute. Slowly stir until smooth; set aside. Place coconut in a pie dish. Roll cake squares in chocolate, and then roll in coconut; transfer to a rack. Chill until chocolate sets, at least 1 hour.