Canh Chua Cá (Sour Fish Soup)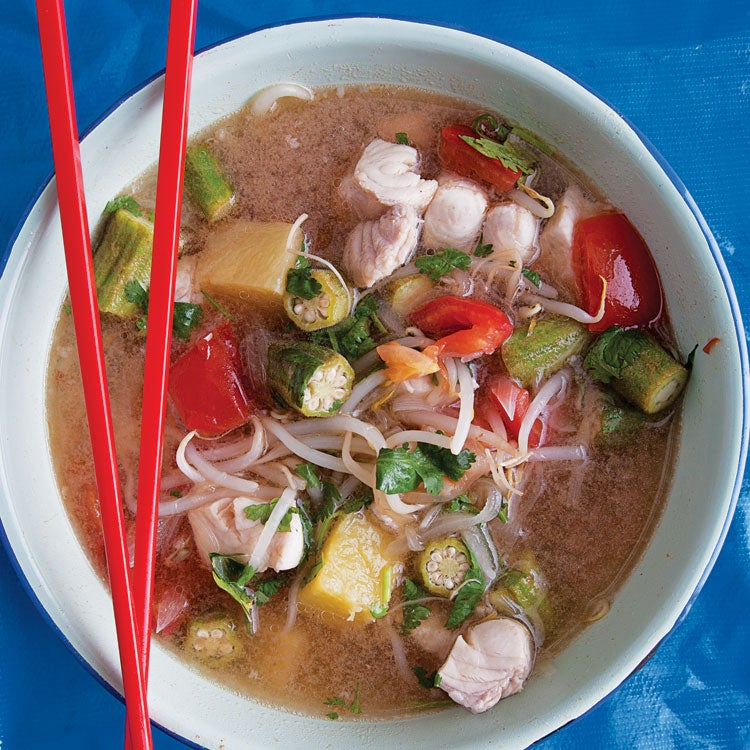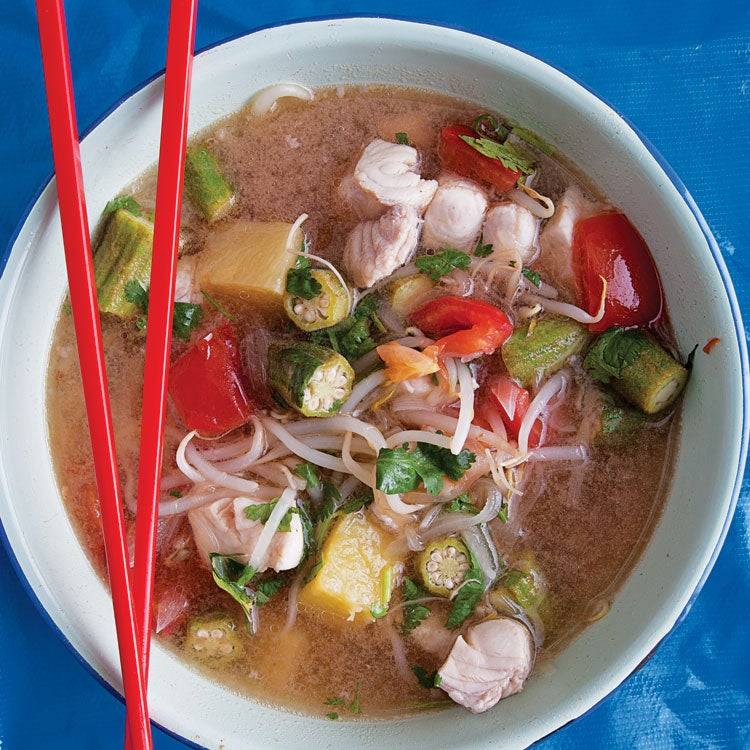 Southern Vietnamese cooks often simmer catfish steaks with caramel sauce, and use the fish's head and tail in this refreshing soup brightened with tamarind and pineapple. Serve with rice, and that's my quintessential Viet meal. —Andrea Nguyen, Saveur contributing editor
Canh Chua Cá (Sour Fish Soup)
Southern Vietnamese cooks often simmer catfish steaks with caramel sauce, and use the fish's head and tail in this refreshing soup brightened with tamarind and pineapple.
Ingredients
1 tbsp. canola oil
1 small yellow onion, thinly sliced
2 tbsp. Asian tamarind concentrate
1 1⁄2 tbsp. Vietnamese fish sauce
1 1⁄2 tsp. sugar
Kosher salt, to taste
12 oz. catfish filets, cut into 1″ pieces
1 cup cubed fresh pineapple
8 oz. okra, cut into 1″ pieces
2 cups mung bean sprouts
1 tsp. ground cumin
2 plum tomatoes, cored, cut into wedges
6 sprigs cilantro, chopped
Cooked white rice, for serving
Instructions
Heat oil in a 4-qt. saucepan over medium heat. Add onion and cook, stirring, until soft, about 5 minutes. Add tamarind, fish sauce, sugar, salt, and 6 cups water, and bring to a boil. Reduce heat to medium-low, add catfish and pineapple, and cook until catfish is just cooked through, about 6 minutes.
Add okra and cook until tender but firm, about 2 minutes. Add sprouts, cumin, and tomatoes; cook, until sprouts just wilt, about 30 seconds. Remove from heat, divide soup among bowls, and garnish with cilantro. Serve with rice.