Recipes
West African-Style Peanut Stew
Loaded with fresh veggies and tender chicken thighs, Jessica B. Harris's riff on the region's popular braise makes for a rich and savory feast.
Serves

4–6

Cook

1 hour 30 minutes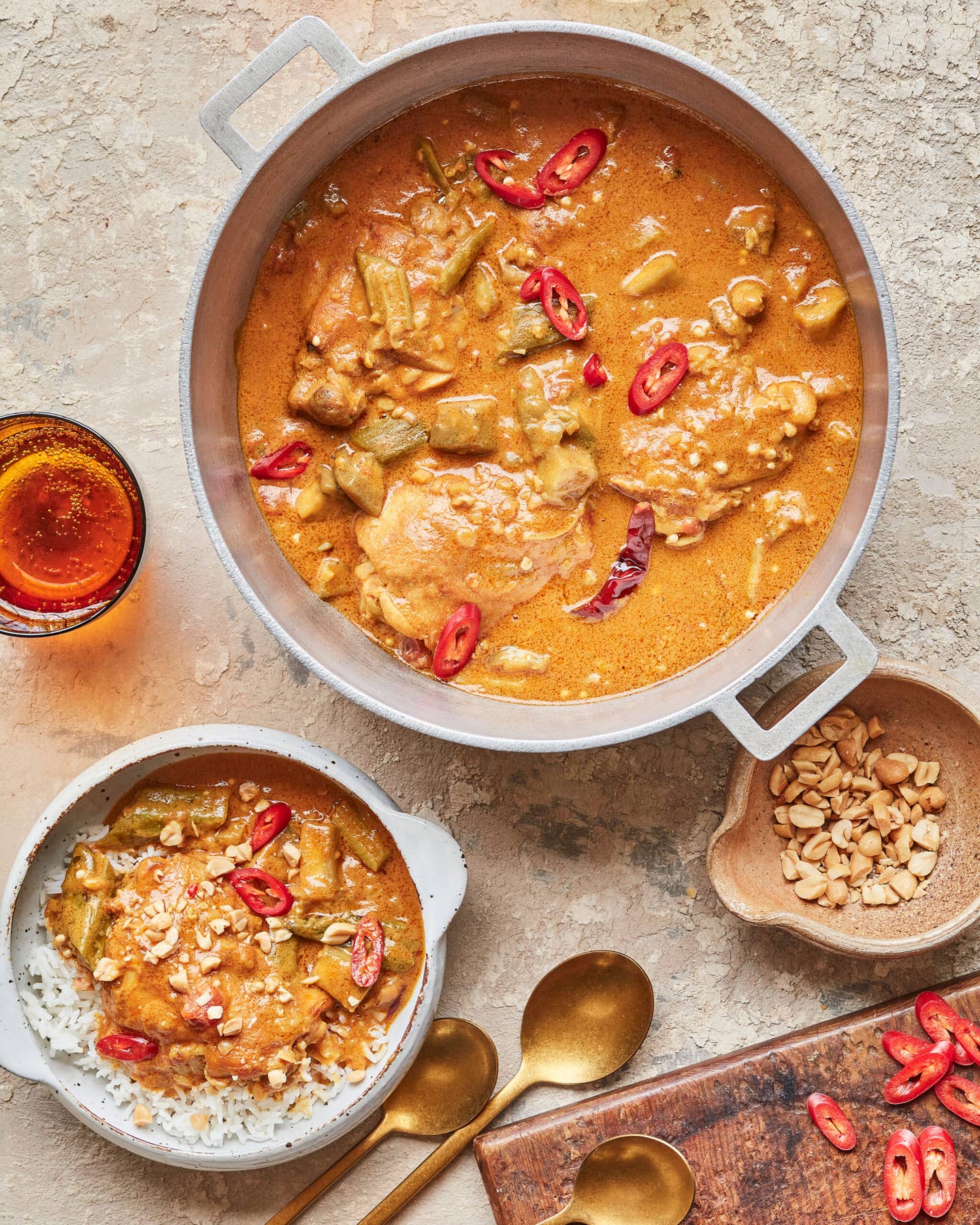 "Peanut stews are found across West Africa, with ancient roots in dishes made with native groundnuts before the peanut arrived from the New World in the 16th century," writes Dr. Jessica B. Harris, historian and author of High on the Hog. "Some are thick and served over rice or millet couscous, others thin and soupy, depending on where in Africa you are." This version, inspired by Malian maafe and Ghana's groundnut stews, pairs chicken with a generous portion of okra, tomatoes, eggplant, and hot chiles, which lighten the stew's intense richness. Still, it's the indispensable peanut that gives this dish its essential earthy character.
Ingredients
⅓ cup vegetable oil
2 lb. bone-in chicken thighs, skin discarded, patted dry with paper towels
Kosher salt
1 large yellow onion, finely chopped
¼ cup finely chopped ginger
4 dried chiles de árbol
1 tsp. ground coriander
1 tsp. ground turmeric
½ tsp. freshly ground black pepper
½ tsp. ground cumin
¼ tsp. ground cinnamon
¼ tsp. fenugreek seeds
3 whole cloves
2 Tbsp. tomato paste
¾ cup smooth salted peanut butter
4 cups homemade chicken stock or low-sodium chicken broth
1 cup canned diced tomatoes
1 medium eggplant (about 1 lb.), peeled and cut into 1-in. cubes
10 okra pods (about 4 oz.), cut into 1-in. lengths
Steamed white rice, for serving
1 fresh red chile, such as peri-peri or bird's-eye, thinly sliced
Roasted salted peanuts, coarsely chopped, for garnish
Instructions
Step 1
To a pot set over medium-high heat, add 3 tablespoons of the vegetable oil. Season the chicken generously with salt and cook, turning once, until lightly browned on both sides, about 10 minutes. Transfer the chicken to a plate and set aside.
Step 2
To the empty pot, add the onion, ginger, chiles de
á
rbol, and the remaining oil and cook, stirring frequently, until softened, about 8 minutes. Add the coriander, turmeric, black pepper, cumin, cinnamon, fenugreek, and cloves and cook until fragrant, about 1 minute. Add the tomato paste and cook, stirring, until slightly darkened, about 3 minutes. Stir in the peanut butter, tomatoes, reserved chicken, and chicken stock and turn the heat to high. When the liquid boils, turn down the heat to medium-low and cook, partially covered, until the chicken is done but not falling off the bone, about 25 minutes. Add the eggplant and okra and cook, stirring occasionally, until the chicken is very tender and the vegetables are soft, 25–30 minutes more. Season with salt to taste.
Step 3
To serve, ladle the soup over rice, if desired, and sprinkle with the fresh chile and peanuts.