Recipes
Conserva of Spring Porcini, Fresh Ricotta and Braised Garlic Scapes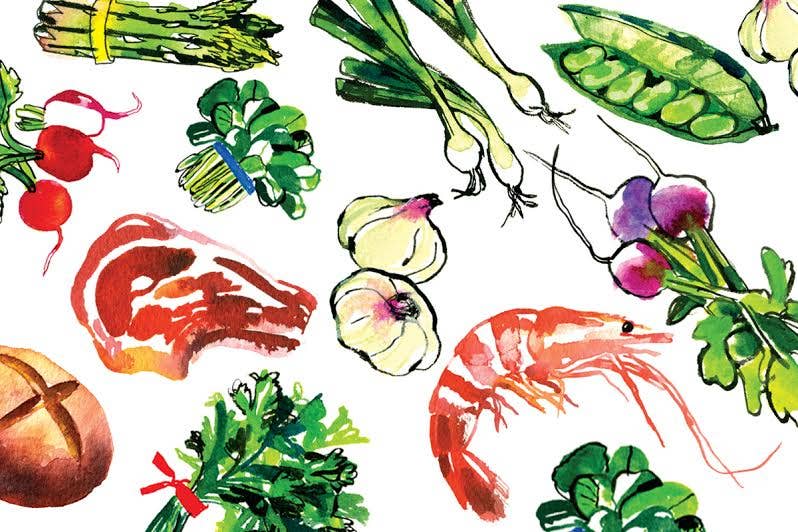 Chef Michael Tusk, of San Francisco's Quince Restaurant, celebrates the tastes of summer with this canape of fresh porcini and garlic scapes conserva mixed with creamy ricotta.
Ingredients
3 lb. fresh porcini mushrooms, cleaned and sliced ¼ inch thick
1 lb. garlic scapes, sliced on bias thinly
1⁄2 lb. thinly sliced shallots
2 sprigs summer savory
2 cups extra-virgin olive oil
1 cup white wine
1 cup vegetable broth
Sea salt
Cracked black pepper
2 cups fresh ricotta
1 loaf country bread
Instructions
Step 1
Set up a stovetop steamer; on the top, place the porcini alternating with the garlic scapes and shallots. (If your steamer is small, you will need to do this twice.)
Step 2
Drizzle 1⁄4 cup of the olive oil over the mushrooms, sprinkle with salt, and add the summer savory. In the bottom of the steamer, add the remaining olive oil, white wine, and vegetable broth. Bring to a boil.
Step 3
Once the mixture has boiled, cover and steam the mushrooms until tender. Once tender, take the mushroom mixture out of the steamer and place in a mixing bowl. Taste the mushrooms and scapes; and season with a little salt.
Step 4
Reduce the steaming juices by half, then add to the mushrooms. Taste the mixture and reserve at room temperature.
Step 5
On a wood-fired grill, lightly toast the country bread. Spoon fresh ricotta over the bread and spread some of the porcini scape mixture over. Drizzle with more oil and serve immediately.