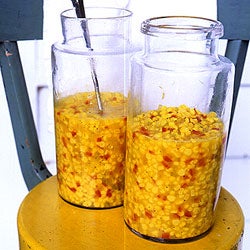 This recipe is adapted from one given by John T. Edge in A Gracious Plenty (Putnam, 1999). It makes a wonderful accompaniment to fish or chicken at the family barbecue.
Corn Relish
This cool and crunchy summer condiment is a great way to use corn at its peak.
Yield:
makes About 8 Cups
Ingredients
2 stalks celery, trimmed and chopped
1 red bell pepper, stemmed, cored, seeded, and chopped
1 small white onion, peeled and chopped
1 cup sugar
1 cup white vinegar
1 tbsp. salt
1⁄2 tsp. celery seeds
2 tbsp. flour
1 tbsp. dry mustard
1 tsp. turmeric
8 cups fresh corn kernels (about 16 ears)
Instructions
Put celery, bell peppers, onions, sugar, vinegar, salt, celery seeds, and 1 cup water in a large heavy pot. Bring to a boil over medium-high heat and cook, stirring often, for 5 minutes.
Meanwhile, mix together flour, mustard, turmeric, and 1⁄4 cup cold water in a small bowl, then add to vegetables, along with corn. Bring to a boil and cook for 5 more minutes, stirring often. Transfer to a bowl, cover, and refrigerate until ready to use. Or pour into sterilized jars, seal, and refrigerate for up to 2 weeks.