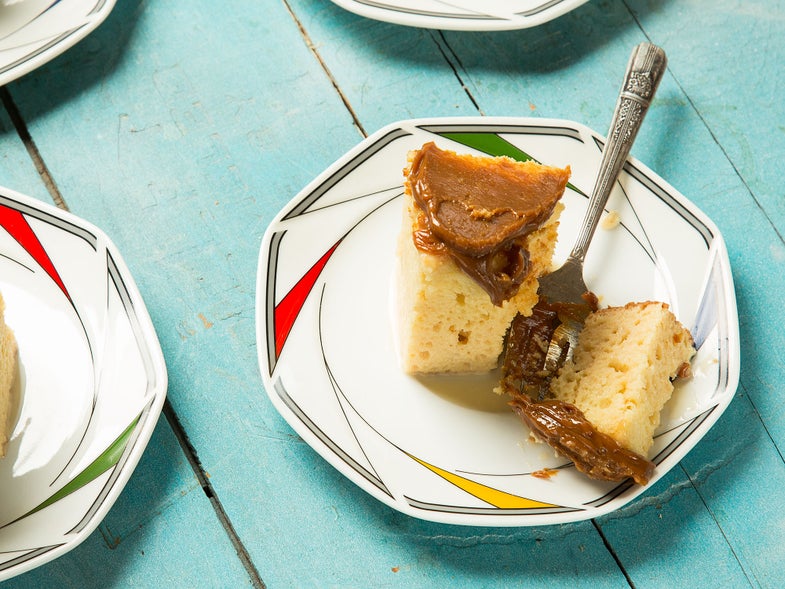 The secret to achieving this cake's moist, dense-but-not-too-dense texture is to poke it all over with a knife while it's still warm, before dousing it with a rich milk mixture that will soak into the cake's interior.
Dulce de Leche Cake
Luxuriant moistness is this dessert's calling card.
Yield:
makes One 9″ x 13″ Cake
Ingredients
2 tsp. butter
1 tbsp. plus 2 cups flour
2 tsp. baking powder
1 1⁄2 tsp. fine salt
6 eggs, at room temperature, separated
1 1⁄4 cups sugar
1⁄2 cup whole milk
1 1⁄2 tbsp. dark rum
1 tbsp. vanilla extract
1 cup heavy cream
1 (14-oz.) can sweetened condensed milk
1 (12-oz.) can evaporated milk
1 (16-oz.) jar dulce de leche (milk caramel)
Instructions
Heat the oven to 350°. Grease a 9″ × 13″ baking pan with the butter and dust with 1 tbsp. of the flour. Invert the dish, tap out the excess flour, and set aside.
Sift the remaining flour, baking powder, and salt into a bowl and set aside. Put the egg whites into a large bowl and beat with a hand-held electric mixer on medium speed until soft peaks form, about 2 minutes. While the mixer is still running, add the sugar in a gradual stream and continue beating again to soft peaks. Add the egg yolks one at a time, beating well after each addition. Alternately add the reserved flour mixture and the whole milk in 3 parts, beating until smooth after each addition. Add the rum and vanilla and beat again briefly until smooth.
Pour batter into reserved baking pan and bake until golden brown, about 30 minutes. Set the cake aside and let cool slightly for 30 minutes.
Whisk together the sweetened condensed milk, evaporated milk, and heavy cream in a bowl. Using a knife, poke the cake with holes all over, penetrating to the bottom of the pan. Pour the milk mixture over the warm cake and set aside to let cool completely.
Cover the cake with plastic wrap and refrigerate until well chilled and liquid is absorbed, at least 4 hours. Spread the dulce de leche across the top of the cake and serve.