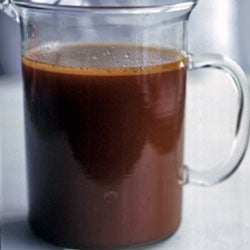 Enriching this duck stock with demi-glace makes the sauce for Duck With Cherries particularly satiny.
Find this recipe in our cookbook, SAVEUR: Soups and Stews
Yield: makes 8 Cups
Ingredients
1 duck carcass
1 yellow onion, quartered
8 black peppercorns
1 bay leaf
2 tsp. salt
2 cups duck demi-glace
Instructions
Preheat oven to 500°. Chop duck carcass into 16 pieces, then put in a heavy roasting pan with onions, peppercorns, and bay leaf. Season with salt and roast until deeply browned, about 45 minutes.
Remove from oven and add 12 cups water. Using a wooden spoon, scrape any browned bits stuck to bottom of pan, then return pan to oven and roast until stock has reduced by half, about 30 minutes. Strain stock and add demi-glace.