Ethiopian Spice Mix (Berbere)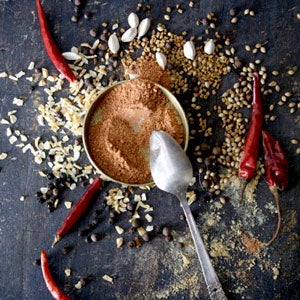 Berbere, whose name means hot in Amharic, is a chile-spice blend that's essential to many Ethiopian dishes, including Doro Wot and Misr Wot.
Yield: makes about 3/4 cup
Ingredients
2 tsp. coriander seeds
1 tsp. fenugreek seeds
1⁄2 tsp. black peppercorns
1⁄4 tsp. whole allspice
6 white cardamom pods
4 whole cloves
1⁄2 cup dried onion flakes
5 dried chiles de árbol, stemmed, seeded, and broken into small pieces
3 tbsp. paprika
2 tsp. kosher salt
1⁄2 tsp. ground nutmeg
1⁄2 tsp. ground ginger
1⁄2 tsp. ground cinnamon
Instructions
In a small skillet, combine coriander seeds, fenugreek seeds, black peppercorns, allspice, cardamom pods, and cloves. Toast spices over medium heat, swirling skillet constantly, until fragrant, about 4 minutes.
Let cool slightly; transfer to a spice grinder along with onion flakes and grind until fine. Add chiles, and grind with the other spices until fine.
Transfer the mixture to a bowl and stir in paprika, salt, nutmeg, ginger, and cinnamon. Store in an airtight container for up to 6 months.