Festivus Chocolate Salami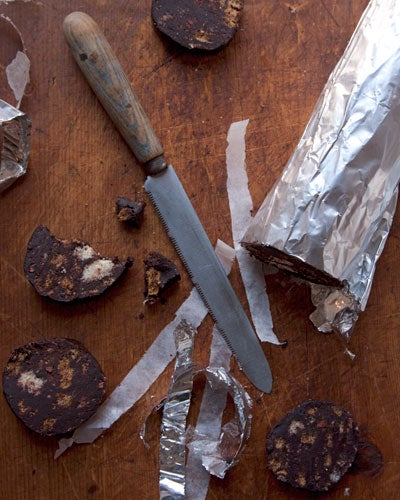 This recipe comes from Festivus: The Holiday for the Rest of Us By Allen Salkin
Ingredients
1 stick unsalted butter
2 egg yolks
1 cup sugar
1 cup cocoa
2 tbsp. orange liqueur, such as Triple Sec or Grand Marnier
4 oz. tea biscuits or plain butter cookies
3 oz. ginger snaps (Trader Joe's Triple Ginger, if you can get them)
2 tbsp. Scharffenberger cocoa nibs (optional but recommended)
Instructions
Place cookies in a closed plastic bag and smash with a bottle, can or rolling pin until pieces are no bigger than ½ inch.
In a bowl, vigorously mix egg yolks with sugar until the mixture turns thick and pale yellow. Set aside.
Cut butter into ½-inch cubes and place on a cold skillet over low heat. Work the solid pieces into the melting butter with a wooden spoon or your fingers until the butter is soft but not liquid. Remove from heat.
In a bowl, combine the egg mixture, butter and remaining ingredients until the mixture holds shape.
Place an 18-inch x 12-inch-long piece of aluminum foil on a firm surface.Transfer your mixture to the foil and form a long sausage about 14 inches long and 2 inches in diameter. Place sausage on near end of foil, about three inches from the edge. Roll the sausage tightly in the aluminum foil. Twist the ends of the foil as if it were a real salami. Make sure that your roll is compact and there are no air pockets. If you wish, tie ends with butcher's twine as decoration.
Refrigerate for five hours. Slice and serve. Keep leftovers refrigerated.