Foie Gras with Pineapple and Pistachios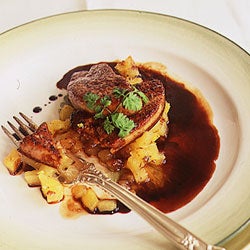 Always elegant, savory foie gras lends itself to a number of preparations, including this inventive one from the Four Seasons in New York City.
Foie Gras with Pineapple and Pistachios
This inventive treatment of foie gras came from New York's elegant Four Seasons Pool Room.
Ingredients
2 tbsp. butter
1 ripe pineapple, peeled, cored, and diced
1⁄2 cup sugar
1⁄2 cup rice wine vinegar
1⁄2 cup pineapple juice
2 tbsp. roasted pistachios, shelled, chopped, and toasted
1 1⁄2 lb. fresh whole foie gras, sliced into 16 ½"-thick pieces
Salt and freshly ground black pepper
8 tbsp. balsamic vinegar
8 sprigs chervil
Instructions
Melt butter in a medium saucepan over medium heat, then add diced pineapple, sugar, rice wine vinegar, and pineapple juice. Bring mixture to a boil, reduce heat to medium-low, and simmer until juices have evaporated and the pineapple is soft, about 1 hour. Remove from heat, stir in chopped pistachios, and set aside.
Season foie gras slices to taste with salt and pepper. Sear foie gras in a large nonstick skillet over high heat until nicely browned on both sides and medium-rare in the middle, about 1 minute each side.
Divide pineapple mixture among eight plates. Arrange 2 slices of seared foie gras on top of each mound of pineapple, then drizzle with balsamic vinegar. Garnish each serving with a chervil sprig.