Recipes
Fresh Duck Liver Sautéed with Shiitake Mushrooms, with a Julienne of Golden Apples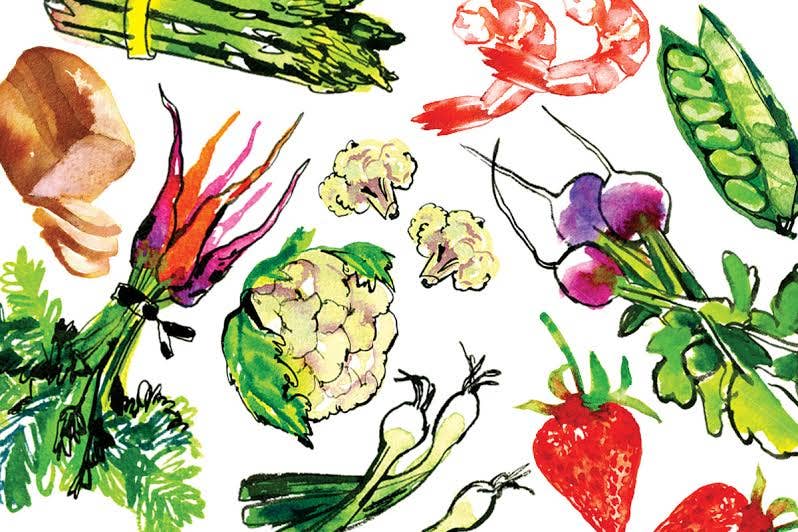 (Foie Frais de Canard Poele au Shitake, Julienne de Golden Citronnee)
At the extraordinary Chez Ruffet in Jurançon, chef and co-owner Stephane Carrade (his partner is the restaurant's masterful maitre d'hotel, Marc Cazeils) prepared this dish for us with green walnuts. He suggested cashews as a reasonable alternative.
Ingredients
1 (1 1/2-lb.) lobe fresh duck foie gras, set out to soften at room temperature for 1 hour
2 medium golden delicious apples
Zest and juice of 1 lime
1 1⁄2 Tbsp. butter
1⁄4 cup cashews, halved
Salt, preferably fleur de sel
3⁄4 cup port
2 Tbsp. sugar
16 large leaves fresh basil
1 whole star anise
12 large shiitake mushroom caps, cleaned and blanched
1 tsp. soy sauce
Freshly ground black pepper
Instructions
Step 1
Separate the foie gras into 2 lobes, using a paring knife to sever any connecting veins. With the tip of the knife and your thumb or using your fingers, grab the thick branched main vein that runs through the center of each lobe and gently pull it out. Slice foie gras into 1"-thick pieces, transfer to a plate, cover with plastic wrap, and refrigerate.
Step 2
Peel and core apples, then cut into 1⁄4" x 3" sticks. Put apples into a small bowl, gently toss with lime juice, and set aside. Melt 1⁄2 tbsp. of the butter in a small skillet over medium heat. Add cashews and cook, stirring often, until pale golden brown, about 2 minutes. Transfer to a small bowl, season to taste with salt, and set aside.
Step 3
Put port, sugar, basil, and star anise into a small heavy saucepan. Bring to a boil over high heat, stirring until sugar dissolves. Continue to boil until sauce has reduced by three-quarters and is syrupy, 8–10 minutes. Strain sauce, discarding solids, and set aside.
Step 4
Melt remaining butter in a large skillet over medium-high heat. Add mushrooms and sauté, stirring often, until golden brown, about 2 minutes. Add soy sauce and cook until mushrooms have absorbed all the liquid in the skillet, about 1 minute more. Transfer to a small plate, season to taste with pepper, and set aside.
Step 5
Heat a clean large skillet over medium-high heat until hot but not smoking. Sear foie gras slices until nicely browned on both sides and warm in the center, about 45 seconds per side.
Step 6
To serve, divide foie gras between 4 large warm plates, then season with lime zest and with salt and pepper to taste. Make 4 stacks of mushrooms with 3 mushrooms per stack, then put each stack on a plate next to the foie gras. Arrange one-quarter of the apple sticks on each plate in a 2-tiered rectangle next to the foie gras and opposite the mushrooms. Spoon some of the sauce onto each plate and scatter cashews over the foie gras and mushrooms.