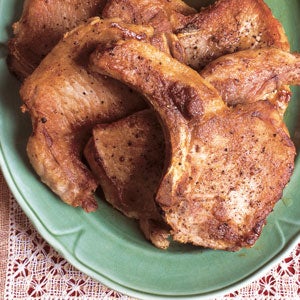 Originally, many cooks would have fried thin-cut pork chops, a foil for yellow hot relish, in lard-but vegetable oil works too.
Fried Pork Chops
These pork chops can be fried in vegetable oil, but for a richer, more decadant and more authentic dish, they should be fried in lard.
Ingredients
8 (5-7 oz.) pork chops
Salt
Freshly ground black pepper
3 tbsp. lard or vegetable oil
Instructions
Generously season eight 5-7 oz. pork chops with salt and freshly ground black pepper.
Heat 2 tbsp. lard or vegetable oil in a large cast-iron or other heavy skillet over medium-high heat.
Working in 3 batches, fry pork chops until golden brown on on side, about 5 minutes, then turn chops and fry for 2-3 minutes more. Add 1 more tbsp. lard or vegetable oil to skillet between batches.
Transfer chops to a warm platter as finished cooking. Serve with yellow hot relish, if you like.