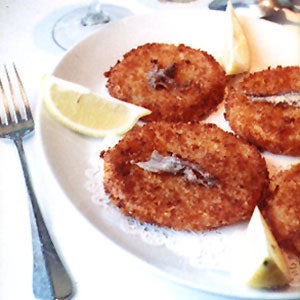 This recipe came from Oliveto where Paul Bertolli makes his bread crumbs from day-old sourdough bread. He removes the crusts and then coarsely grinds the sourdough in the food processor.
Yield: serves 4-6
Ingredients
6 firm, ripe large yellow tomatoes, cored
Salt
1 cup flour
1½ cups fresh bread crumbs
4 eggs
Olive oil
24 flat anchovy filets packed in oil
Instructions
Using a sharp serrated knife, slice the tomatoes horizontally into ½"-thick slices, discarding all end pieces. Lay the tomato slices out on a flat surface and season to taste with salt. Allow the tomatoes to sit until little beads of water have accumulated on them, about 10 minutes.
Put the flour on one plate and the bread crumbs on another and set aside. Place eggs in a medium flat dish, beat lightly, and set aside.
Pour olive oil into a large heavy skillet to a depth of 1" and heat over medium-high heat until shimmering. While oil is heating, dredge each of the tomato slices in flour, shake off excess, then dip first in the eggs, then in the bread crumbs, shaking off excess crumbs.
Working in batches, fry breaded tomatoes until golden, 1-2 minutes per side. Drain on paper towels and season to taste with salt. Serve tomatoes warm, each garnished with a single anchovy filet.