Momofuku Ginger Scallion Noodles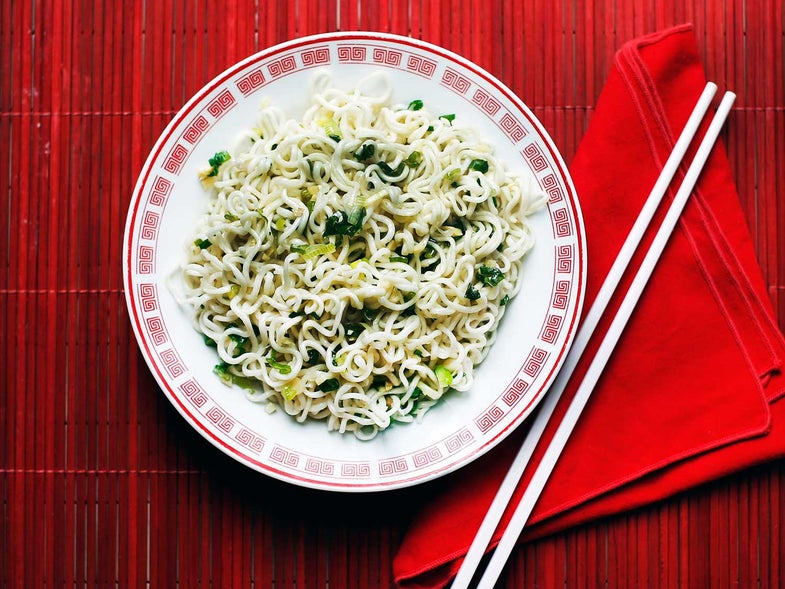 Get seasonal recipes, methods and techniques sent right to your inbox—sign up here to receive Saveur newsletters. And don't forget to follow us on Instagram at @SaveurMag.
This ginger scallion noodle recipe is an homage to of one of the greatest dishes in New York City: the $4.95 plate of ginger scallion noodles at Great New York Noodletown in Chinatown.
Ginger scallion sauce is a mother sauce at Momofuku, something that Chef Chang uses over and over again, and you can do the same. Stir a few tablespoons into a bowl of hot noodles, on a bowl of rice topped with a fried egg, or use as a condiment with grilled meat or seafood.
This recipe is adapted from Momofuku by David Chang and Peter Meehan
What You Will Need
Yield: serves 4
Time: 10 minutes
Ingredients
2 1⁄2 cups thinly sliced scallions (greens and whites; from 1 to 2 large bunches)
1⁄2 cup finely minced peeled fresh ginger
1⁄4 cup grapeseed or other neutral oil
1 1⁄2 tsp. light soy sauce
3⁄4 tsp. sherry vinegar
3⁄4 tsp. kosher salt, or more to taste
6 cups (1 lb.) cooked ramen noodles
Instructions
In a large bowl, add the the scallions, ginger, oil, soy sauce, sherry vinegar, and stir to combine. Season with additional salt as needed, then cover and refrigerate for at least 15 minutes or up to 2 days.
When you are ready to serve, add the hot noodles to the bowl, toss well to coat with the sauce, and serve immediately.