Flourless Peanut Butter Cookies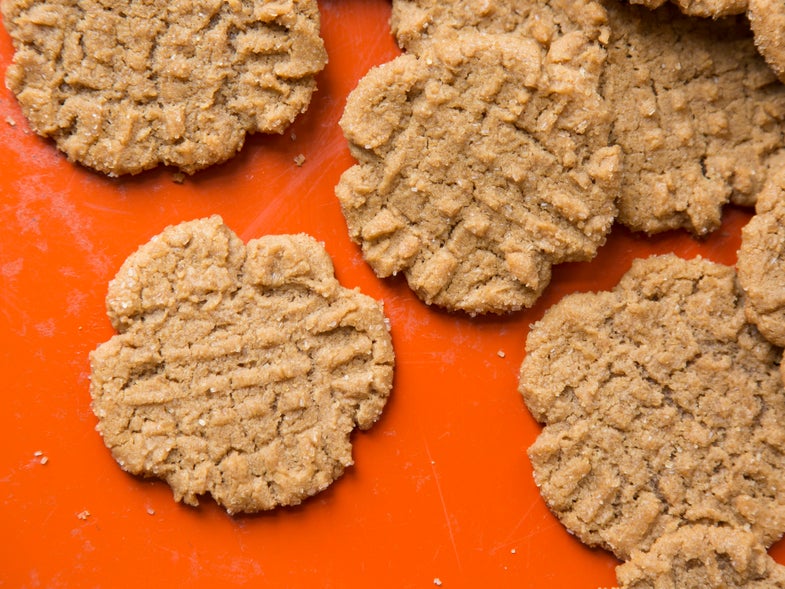 A lack of flour helps bring out the pure peanut butter flavor of these cookies. They have a wonderful chewy texture and a great balance between sweet and salt.
Yield: makes 3-4 Dozen Cookies
Ingredients
16 oz. Jif brand creamy peanut butter*
1 cup sugar
1 cup light brown sugar
2 eggs
1 tsp. vanilla extract
2 tsp. baking soda
1⁄2 tsp. salt
1⁄2 tsp. cinnamon
1 cup demerara sugar
Instructions
Preheat oven to 350° with racks in the upper and lower thirds. Line two rimmed baking sheets with parchment paper and set aside. In a medium mixing bowl cream together peanut butter, sugar and brown sugar. Beat in eggs, vanilla, baking soda, salt, and cinnamon until thoroughly combined.
Place demerara sugar in a small bowl. Form peanut butter mixture into 2-inch balls and roll in demerara sugar, coating completely. Place balls four inches apart on prepared baking trays and flatten with the tines of a fork in a perpendicular cross-hatch pattern, if desired.
Bake 10–12 minutes until puffed and lightly golden at edges. Allow to cool 10–15 minutes on trays to set before removing.
_ *We strongly recommend Jif brand peanut butter for this recipe; a different brand of peanut butter may produce different results._