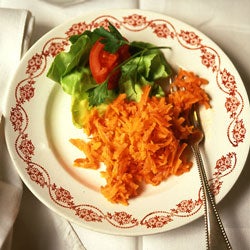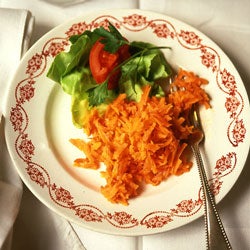 This is a French bistro classic—simple to prepare, and perfect as a light side dish.
Grated Carrot Salad
This traditional French salad is light, crunchy, and delightfully sweet.
Ingredients
1 tsp. dijon mustard
1 tbsp. lemon juice
5 tsp. peanut oil
5 medium carrots, peeled, trimmed and grated
Salt and freshly ground black pepper
Instructions
Whisk together mustard, lemon juice, and peanut oil in a bowl. Add carrots, and salt and pepper to taste. Toss well.
Serve garnished with bibb lettuce, tomato wedges, and parsley.