Lazy Goat's Grilled Calamari with Ahi Dolce Romesco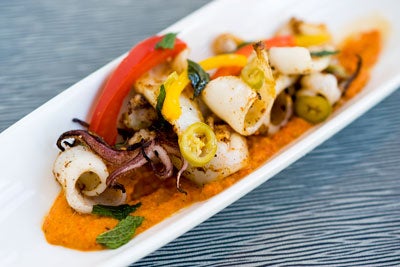 "I am very fortunate to have a local farmer who grows all of my microgreens, braising greens and what I like to think of as God's personal gift to me, the aji dulce pepper. It looks and tastes just like a habanero, however it has none of the heat – seriously!" —Victoria Ann Moore, chef de cuisine, the Lazy Goat
Lazy Goat's Grilled Calamari with Ahi Dolce Romesco
"I am very fortunate to have a local farmer who grows all of my microgreens, braising greens and what I like to think of as God's personal gift to me, the ají dulce pepper. It looks and tastes just like a habanero, however it has none of the heat – seriously!" —Victoria Ann Moore, chef de cuisine, the Lazy Goat
Ingredients
10 Ahi Dolce Peppers, grilled, seeded
5 Piquillo peppers (any roasted canned red pepper will work)
1 cup blanched peeled almonds, toasted (I use Marcona Almonds)
2 tbsp. fresh mint leaves
Splash of sherry vinegar
1⁄2–3⁄4 cups olive oil
Salt & pepper
1 lb. calamari
Olive oil
Instructions
Combine peppers, almonds, and mint in a food processor on high.
Add the sherry vinegar, followed by olive oil while the processor is still on.When emulsified, remove from processor, taste, and adjust seasoning with salt and pepper.
Set sauce aside.
Preheat grill.
Cut the calamari tubes into strips lengthwise.
Season with salt and pepper, and coat with olive oil.
Put calamari on the grill in a medium hot area. Try and prevent the grill from flaming up directly on the calamari. It will be ready in 2 – 3 minutes.
Serve hot, topped with the prepared sauce.