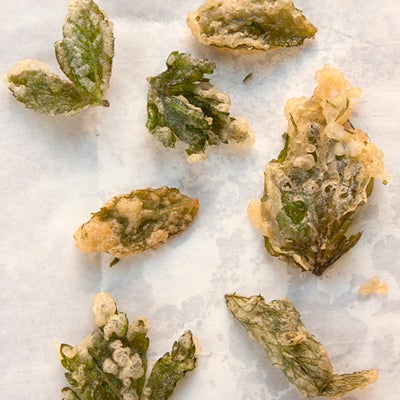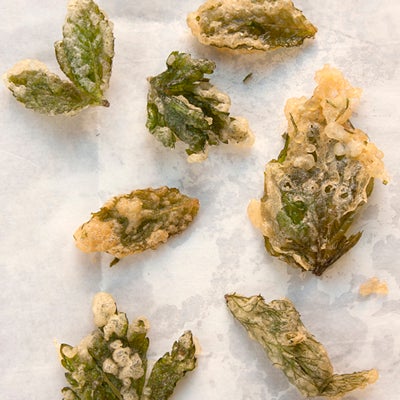 Use as many herbs as possible when making this crispy tempura. They are delicious served before dinner with champagne or a champagne cocktail
Herb Tempura
Use as many herbs as possible when making this crispy tempura. They are delicious served before dinner with champagne or a champagne cocktail.
Ingredients
2 cups all-purpose flour
2 tsp. baking powder
2 tbsp. cornstarch
2 1⁄2 – 2 3⁄4 cups ice water
4 cups canola, peanut, or olive oil
36 pieces herbs & edible flowers (such as: leaves of mint, sage, perilla (an Asian mint), basil, lemon balm, lovage, tender sprigs of tarragon, flat-leaf parsley, fennel, dill, rosemary, blossoms of nasturtium, fennel, sweet cicely, and/or daylily buds)
Sea salt or kosher salt
Instructions
Whisk the dry ingredients together in a mixing bowl. Stir in 2 1⁄2 cups ice water; don't overmix and don't worry about lumps. The batter should be the consistency of heavy cream. If it's too thick, add more water, 1 tablespoon at a time.
Preheat oven to 175°. Heat the oil in a 3-quart saucepan until it reaches 350° on a deep-fry thermometer, or heat an electric deep-fat fryer filled with oil. Hold 1 herb or flower by the stem and dip it into the batter. Lift it out and hold it for a moment over the bowl to let the excess batter drip off, then drop it in the oil. Fry only as many fritters at a time as comfortably fit in the pan without touching, and adjust the heat to keep the oil temperture at 350° during the entire process. Fry the fritters until lightly browned on the bottom, 30-60 seconds, then flip them with a wire skimmer and brown the other side. Drain on paper towels. Keep fritters warm in the oven as you fry the rest. When all the herbs are fried, sprinkle them with salt. Transfer to a serving platter lined with a torn square of handmade paper, rice paper, or fresh grape leaves. Serve immediately.