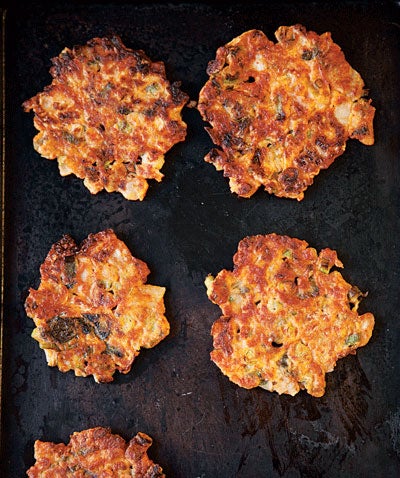 These savory pancakes are flavored with ground pork and chopped kimchi. This recipe makes about 25 small pancakes; you can also cook large ones that fit the bottom of the skillet and slice them into wedges.
Kimchi Pancakes
These savory appetizers are flavored with ground pork and chopped kimchi—that spicy condiment of fermented vegetables that gives Korean food its kick.
Ingredients
1⁄4 lb. ground pork
2 cups chopped Cabbage Kimchi
1 cup flour
1⁄2 cup rice flour
6 scallions, finely chopped
1 egg, lightly beaten
10 1⁄2 tbsp. canola oil
Kosher salt, to taste
Instructions
Combine ground pork, kimchi, flour, rice flour, scallions, egg, and 1 cup ice-cold water in a bowl; whisk to combine. Set aside to let rest for 10 minutes.
Working in 7 batches, heat 1 1⁄2 tbsp. oil in a 12″ nonstick skillet over medium-high heat; scoop four 2-tbsp. portions batter into skillet; flatten each portion with the back of a spoon. Cook until edges crisp, about 2 minutes. Flip pancakes; cook until set, about 2 minutes. Transfer pancakes to paper towels and wipe out skillet after each batch. Serve sprinkled with salt.