La Grande Parade de Paris Cocktail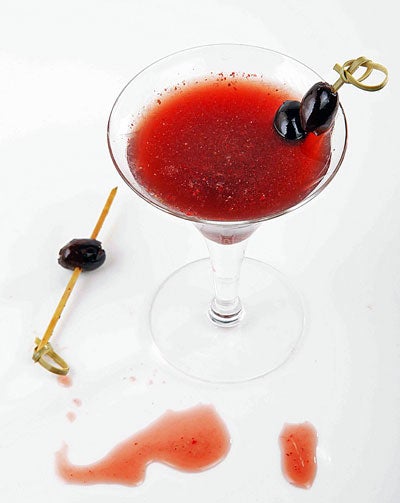 This drink is adapted from a recipe given to us by Grey Goose global brand ambassador Dimi Lezinska. We found that we could easily juice the pomegranate by cutting it into hunks small enough to fit into the cup of a handheld, levered citrus juicer.
La Grande Parade de Paris Cocktail
A cocktail of pomp and circumstance, La Grande Parade de Paris Cocktail includes pomegranate juice, pink peppercorns, pink grapefruit juice, Grey Goose L'Orange, Noilly Prat Rouge, aged balsamic vinegar, and is garnished with Nicoise olives.
Ingredients
1 tbsp. aged balsamic vinegar
1 tsp. fresh-ground pink peppercorns
1⁄4 pink grapefruit
1 3⁄4 oz. fresh-squeezed pomegranate juice
2 oz. orange-flavored vodka, preferably Grey Goose L'Orange
1⁄2 oz. sweet vermouth, preferably Noilly Prat Rouge
2 Niçoise olives, for garnish
Instructions
Place the balsamic vinegar in a non-reactive pan over low heat and reduce by about one-third so that it thickens and coats the back of a spoon. Cool the reduced balsamic, but do not let it harden. Meanwhile, add the pepper to a mixing glass. Juice the grapefruit into the glass. Add 1 tsp. of the reduced balsamic, the pomegranate juice, vodka, and sweet vermouth, and stir well to mix.
Fill a shaker halfway with ice. Pour the cocktail mixture into the shaker and shake until the cocktail is well-chilled. Pour into a small, stemmed glass, and garnish with olives on a cocktail skewer to serve.