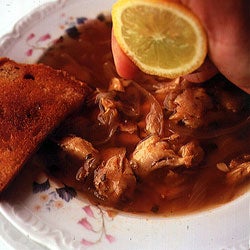 Malta is a devoutly Catholic country, hence the popularity of this soup during the Lenten season. Using the whole fish—head and tail included—will add flavor to the soup.
Maltese Fish Soup
Aljotta is a Lenten dish widely enjoyed throughout the island country of Malta.
Ingredients
3⁄4 cup extra-virgin olive oil
1 large yellow onion, peeled and thinly sliced
6 cloves garlic, peeled
1 cup crushed tomatoes
Leaves from 3 sprigs each basil, mint, and marjoram
Salt and freshly ground black pepper
3⁄4 lb. white potatoes, peeled and sliced
1⁄2 cup peas
6 slices country-style bread
1 (2 1⁄2-lb.) whole meaty fish, such as pompano or porgy, cleaned and cut into 3 pieces
Instructions
Heat 3 tbsp. of the oil in a medium saucepan over low heat. Add onions and garlic and cook 5 minutes. Stir in tomatoes and 6 cups water. Tear basil and mint leaves into pieces, then add to saucepan with marjoram leaves, saving a bit of each for garnish. Season to taste with salt and pepper, cover, and cook 20 minutes.
Add potatoes and cook until tender and slightly falling apart, about 15 minutes. Add fish and cook until firm, about 10 minutes. Toss in peas for the last 3 minutes of cooking.
Take fish from pot with a slotted spoon, allow to cool a bit, and remove head, tail, skin, and bones. Return flesh and juices to pot.
Fry bread slices in remaining oil in a large skillet over medium-high heat, turning once. Ladle soup into individual bowls, garnish with herbs, and serve with fried bread.