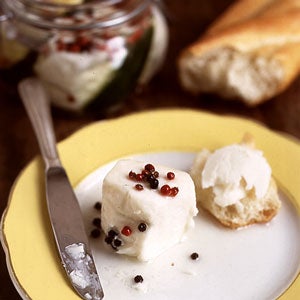 At her farmhouse in the Perigord, Daniele Mazat-Delpeuch served us this marinated cheese with hearty, whole-grain country bread, thickly sliced and toasted on forks over the coals in her huge living room fireplace. The cheese is good in salads, too. If you can find only a larger log of cheese, cut it into slices before marinating.
(Chevre Marine)
Yield: serves 2-4
Ingredients
3 2-oz. fresh goat cheese logs
Extra-virgin olive oil
2 fresh bay leaves
2 sprigs fresh thyme
2 cloves garlic, peeled and crushed
1 tbsp. black peppercorns
1 tbsp. pink peppercorns
Instructions
Carefully place the goat cheese logs into a widemouthed glass or ceramic jar.
Add enough olive oil to cover cheese completely. Add bay leaves, thyme, garlic, black peppercorns, and pink peppercorns.
Cover and marinate cheese in the refrigerator for at least 2 days and up to 1 week. Bring to room temperature before serving.