Marinated Vegetable and Herb Salad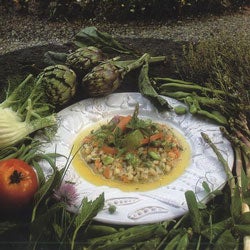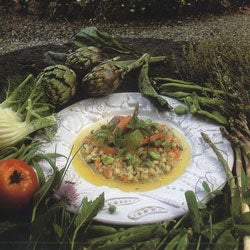 (Tartare des Legumes)
This Provençal salad is simple and delicious. It combines young vegetables, full of flavor, with plenty of fresh herbs and a drizzle of olive oil as a finishing touch.
Marinated Vegetable and Herb Salad
Olive oil, a staple of Provençal cuisine, transforms the flavor of this delightful salad.
For the Vegetable Salad
Coarse salt
2 small artichokes
1 small fennel bulb
2 small carrots
2 small turnips
1 firm, small zucchini
1 small acorn squash
6 small asparagus stalks
1⁄2 cup fava beans, shelled and peeled
1 cup fresh peas
2 ripe tomatoes
1⁄2 cup total of the following fresh herbs, finely chopped: basil, parsley, chives, chervil, tarragon, and/or sage
Additional fresh herbs for garnish
Extra-virgin olive oil
For the Vinaigrette
1 tbsp. dijon mustard
2 tbsp. balsamic vinegar
2⁄3 cup extra-virgin olive oil
Salt and freshly ground black pepper
Instructions
For the vegetable salad: Clean and trim all the vegetables, then dice into small cubes. Cook each kind of vegetable separately in boiling, salted water. Cook artichokes, fennel, carrots, and turnips for 2 minutes each. Cook zucchini, squash, asparagus, beans, and peas for 30 seconds. Drain vegetables, then plunge them into a bowl of ice water. Drain again on paper towels to absorb any water. Set aside.
For the vinaigrette: In a large bowl, whisk mustard and vinegar together, adding olive oil in a thin stream. Season to taste with salt and pepper.
Add cooked vegetables, tomatoes, and chopped herbs to vinaigrette. Mix gently and thoroughly. Refrigerate for 24 hours.
Arrange the marinated vegetables on plates. Garnish with fresh herbs and a drizzle of olive oil.