Mashed Smoky Eggplant with Tomatoes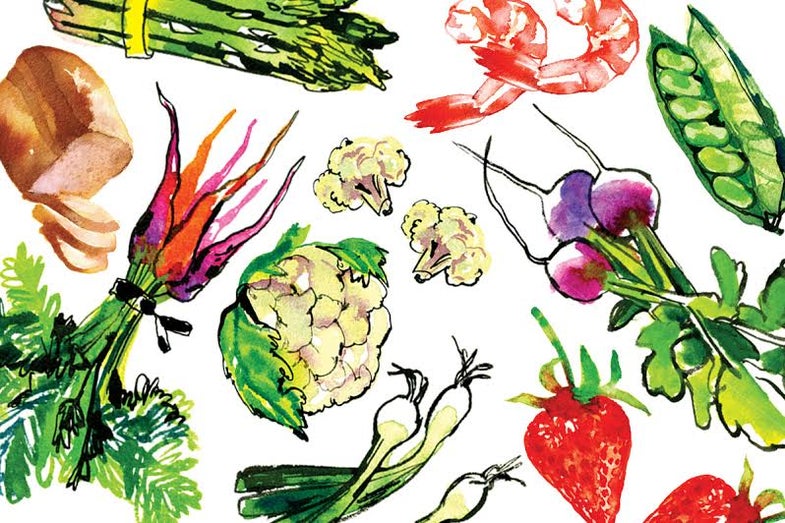 This smooth-textured, luscious side dish—the word bhartha means to pulverize in Hindi, referring to the fact that the ingredients are traditionally mashed in a mortar with a pestle—is excellent served with rice on Naan.
Yield: serves 4
Ingredients
2 medium eggplants (2 lbs.)
8 Tbsp. ghee
2 tsp. cumin seeds
3 medium red onions, finely chopped
8 cloves garlic, finely chopped
4 thai green chiles, stemmed, and finely chopped
4 medium tomatoes, chopped
4 tsp. sugar
1 1⁄2 Tbsp. garam masala
1 Tbsp. kashmiri red chile powder or paprika
Salt
Sliced tomatoes, for garnish
Julienned ginger, for garnish
Chopped cilantro leaves, for garnish
Instructions
Cook eggplants directly over a medium gas flame, turning, until charred and softened, 10–12 minutes each. Remove skin and roughly chop flesh. Mash eggplant flesh with the bottom of a drinking glass; set aside.
Heat ghee in a pot over medium-high heat. Add cumin seeds and cook for 30–45 seconds. Add onions and cook until browned, 25–30 minutes.
Add garlic and chiles; cook until lightly browned, 4–5 minutes. Add tomatoes and sugar; cook until thickened, about 5 minutes.
Add eggplant, garam masala, chile powder or paprika, and salt to taste. Cook until hot, 3–4 minutes more. Serve garnished with sliced tomatoes, julienned ginger, and chopped cilantro leaves.