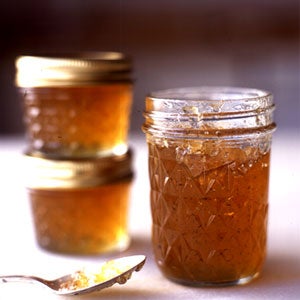 Apples' natural pectin gives this jelly a soft, luscious consistency.
Yield: makes 3 8-Oz Jars
Ingredients
6½ lb. granny smith apples
3 cups water
1 cup sugar per cup of juice
2 cups finely chopped mint (including stems)
Instructions
Roughly chop 6 1⁄2 lbs. granny smith apples, then put into a large heavy pot.
Add 3 cups water, cover, and bring to a boil over medium-high heat, stirring often. Cook until apples are soft and pulpy, about 15 minutes.
Rinse a large piece of cheesecloth in very hot water and fold in half. Line a colander with the cloth, then set colander over a medium-size pot. Transfer apples to colander to drain undisturbed for 4-8 hours.
Discard apples and measure drained juice. For each cup of juice, you will need 1 cup sugar. Put juice and sugar into a medium-size pot and bring to a boil over high heat, stirring until sugar dissolves.
Stir in 2 cups finely chopped mint (including stems), and continue boiling until temperature reaches 220° on a candy thermometer, about 20 minutes. Pour through a sieve into a 4-cup Pyrex measuring cup, then immediately into hot, sterilized canning jars. Set lids on top and seal. Set aside to cool, then refrigerate.