Oranges Stuffed with Coconut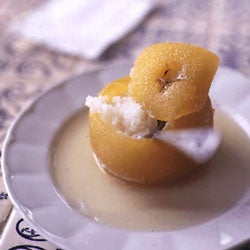 (Naranjas Rellenas de Coco)
This dessert is a variation on a similar Mexican sweet made with limes.
Yield: serves 4
Ingredients
4 thin-skinned oranges (such as Valencias)
4 1⁄2 cups sugar
1 2⁄3 cups shredded unsweetened coconut
Instructions
Simmer oranges in a large pot of water over medium heat for 1 hour. Drain. In the same pot, dissolve 4 cups of the sugar in 4 cups water over medium-low heat.
Slice about 1⁄2″ off the top of each orange, then add oranges and tops to water. Simmer over low heat for 2 1⁄2 hours.
To make the filling, dissolve remaining 1⁄2 cup sugar in 1⁄2 cup water in a medium saucepan over medium heat. Add coconut. Boil over medium-high heat until most of the water evaporates, about 15 minutes.
When oranges are done, remove, set aside to cool, and reduce cooking liquid until syrupy, about 15 minutes. Spoon filling into oranges (interiors will have almost dissolved), and serve cool with syrup.