Peas Braised with Dill and Onions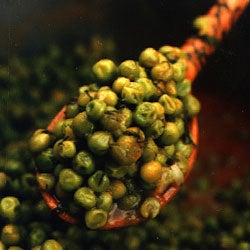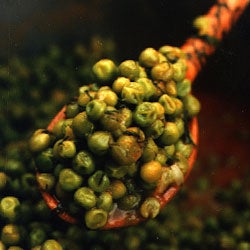 (Arakás me Ánitho kai Kremythákia)
Dishes such as this one belong to the category of Greek cookery known as lathera, which, loosely translated, means "oil-based stews." The liberal use of olive oil produces a surprisingly light and sweet side dish.
Yield: serves 4
Ingredients
4 tbsp. extra-virgin olive oil
2 medium yellow onions, peeled and finely chopped
4-6 scallions, white parts only, thinly sliced
1 clove garlic, peeled and minced
4 cups shelled fresh or frozen peas
1⁄2 cup finely chopped dill
Salt and freshly ground black pepper
Instructions
Heat oil in a large deep skillet over low heat. Add onions, scallions, and garlic, cover, and cook until soft, about 15 minutes.
Stir in peas. Add water just to cover, replace lid, and cook, stirring occasionally, for 30 minutes. Add dill, season with salt and pepper, and cook covered for 20 minutes.
Uncover and raise heat to medium-low, and cook until most of the liquid has evaporated, about 10 minutes. Adjust seasoning with salt and pepper and serve warm or at room temperature.