Persian Potato Pancakes (Kookoo)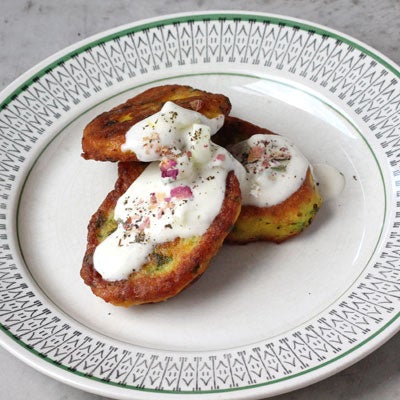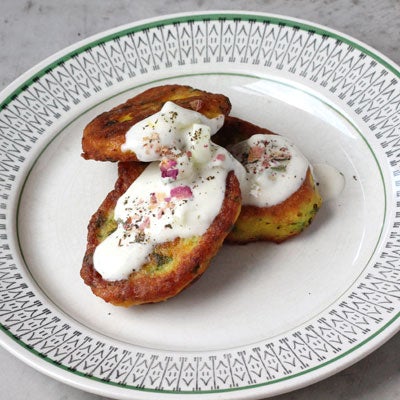 Kookoo are wonderful as a side dish but can stand on their own as a tasty snack, dipped in a cucumber yogurt sauce.
Persian Potato Pancakes (Kookoo)
These potato pancakes, fragrant with cilantro, turmeric, saffron, and garlic, make a wonderful side dish or snack.
Ingredients
1 1⁄2 lb. large russet potatoes, unpeeled
1 1⁄3 cups cilantro, roughly chopped and lightly packed
1⁄2 tsp. turmeric
1⁄8 tsp. saffron
7 large eggs
2 cloves garlic, smashed into a paste
Kosher salt to taste
2⁄3 cup canola oil
Instructions
Bring a large pot of water to boil. Place the potatoes in whole until there is a slight resistance when pierced with a knife. The potatoes should be tender but not fully cooked, about 20 minutes.
Remove potatoes from pot and let cool in the refrigerator. Once cool, scrape the peel off with a fork or a knife, maintaining the potatoes' shape. Coarsely shred the potatoes into a large bowl. Add cilantro, turmeric, saffron, eggs, garlic, and salt. Mix until well combined.
Line a plate with two layers of paper towel. In a heavy skillet over medium high heat, heat 1⁄3 cup of oil until hot but not smoking. To fry the pancakes: spoon a tablespoon of the batter into the skillet and fry on each side until golden brown. Remove the pancakes with a spatula and drain on the lined plate. When half of the batter has been cooked, discard the used oil from the pan and heat the remaining oil. Repeat until all of the batter has been cooked.
Let the cooked pancakes drain on the prepared plate to remove excess oil. Serve warm or at room temperature, with cucumber yogurt sauce for dipping.