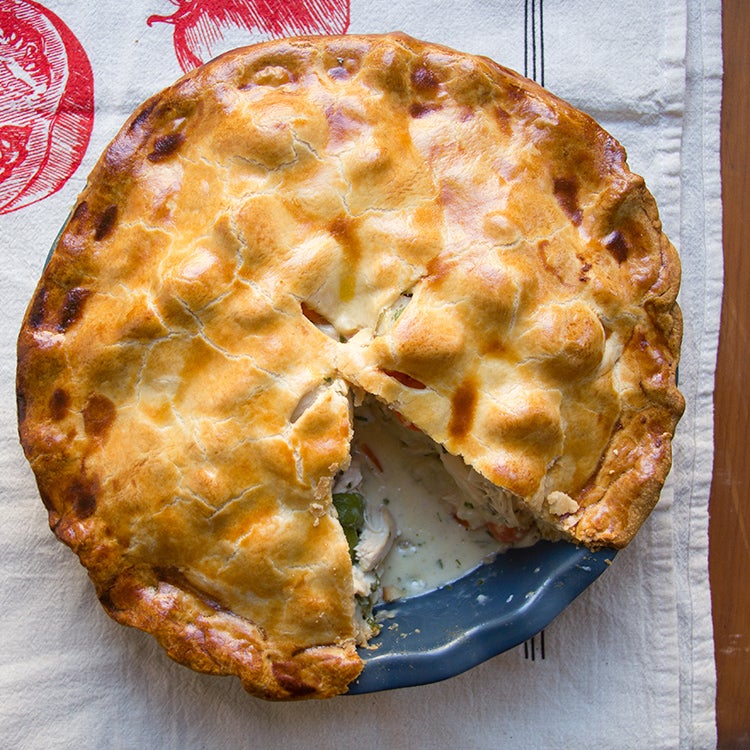 Savory pie, such as our Chicken Pot Pie, needs a substantial pastry, rolled at least 1⁄4″ thick. This recipe is adapted from James Beard's American Cookery (Little, Brown, and Company, 1980).
Yield: makes 1 Double Crust
Ingredients
3 cups all-purpose flour
1 1⁄4 tsp. salt
1⁄4 lb. chilled butter, cut into small pieces
1⁄2 cup chilled shortening
Instructions
Sift flour and salt into a medium bowl. Add butter and shortening, and cut into flour with a pastry blender or two knives until mixture resembles coarse crumbs. Stir in 4–5 tbsp. ice water, until dough just holds together.
Divide into 2 uneven balls: two-thirds for the bottom crust and one-third for the top. Pat each into a disk and wrap in plastic. Refrigerate for 1 hour to allow the dough to rest.
Roll out on a floured surface to fit a 9″ pie pan. Fill and bake according to pot pie recipe.