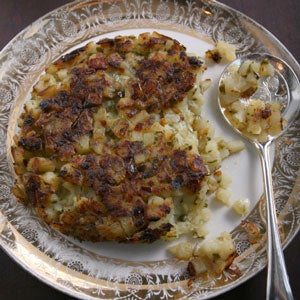 This dish is the purported brainchild of a turn-of-the-century New York City restaurant owner who went by the name Beefstew O'Brien and liked to brighten drab-looking hash browns by tossing vegetables into the skillet. Click here for more about our favorite breakfast potatoes.
Potatoes O'Brien
This recipe gives color and kick to a skillet of fried potatoes.
Ingredients
3 tbsp. bacon fat
1 1⁄2 lb. boiled and cooled new potatoes, cut into 1/2″ cubes
1 small onion, chopped
1 green bell pepper, cored, seeded, and cut into 1/2″ pieces
Kosher salt and freshly ground black pepper, to taste
1⁄4 cup heavy cream
2 tbsp. chopped flat-leaf parsley leaves
Instructions
Heat bacon fat in a 10″ cast-iron or nonstick skillet over medium heat. Add potatoes and cook, stirring occasionally, until lightly browned, 8–10 minutes. Add onion and bell pepper and cook, stirring occasionally, until soft, about 10 minutes. Season with salt and pepper to taste.
Add heavy cream, stir to combine, and press hash down into the skillet with a metal spatula. Increase heat to medium-high and cook, turning hash in parts every 2 minutes, loosening any browned bits, until the cream has reduced and potatoes form crust, about 10 minutes. Press potatoes into a cake with the spatula and let cook for 2 more minutes. Place a plate over the skillet and invert potato cake onto plate. Sprinkle with parsley. Serve hot.