Quail with Aunt Min's Gravy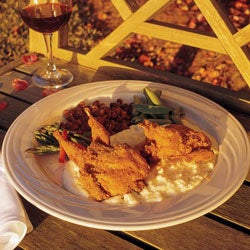 This dish is Lowcountry cuisine with a modern twist. To keep it authentically Southern, use whole grits (stone- or water-ground) from Georgia, Tennessee, or Alabama. Allow to cook for 8 hours and add butter and cream at the end.
Yield: serves 4
Ingredients
8 quail
Salt and freshly ground black pepper
3⁄4 cup ground pecans
3⁄4 cup flour
1 egg
1 cup milk
4 cups peanut oil
3 cups <a href="https://www.saveur.com/article/Recipes/Enriched-Duck-Stock">Enriched/ Duck Stock</a>
1⁄2 cup heavy cream
Whole grits
Instructions
Clean and dry quail, then season with salt and pepper.
Combine pecans and flour in a large bowl and mix well. Make an egg wash and beat the egg into the milk. Dip one quail at a time first into egg wash then into pecan–flour mixture, coating it well.
Heat peanut oil in a large heavy frying pan to 350°. (Use a candy thermometer to check the temperature.) Cook quail until golden and tender, about 10 minutes. You may want to do this in two batches to avoid crowding the pan. Keep the first batch warm in a low oven.
While the quail cooks, pour the duck stock into a medium sauté pan and reduce the stock by half, over medium-high heat. Add the cream and cook until sauce thickens, about 5 minutes.
To serve, place the quail on grits and sauce with gravy.