Recipes
Pizza Rachetta (Racket-Shaped Pizza with Mushrooms and Tomatoes)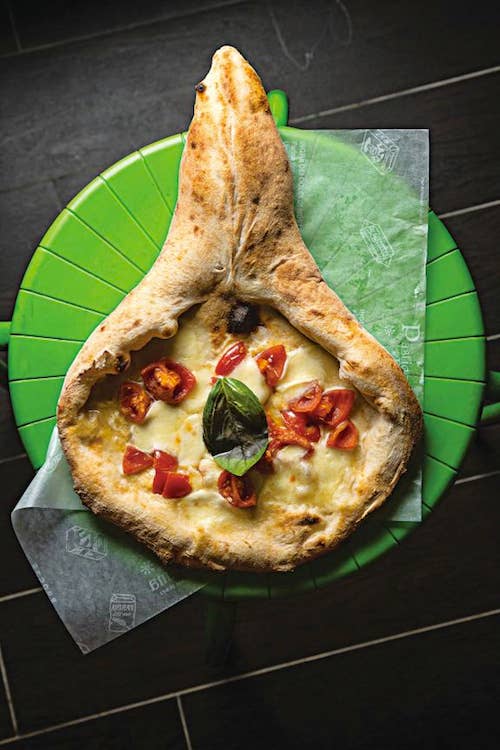 A portion of the crust for this pizza is stuffed with earthy roasted mushrooms to mimic a tennis racket handle. This recipe first appeared in our May 2013 issue with Keith Pandolfi's article The Gold of Naples.
Ingredients
3 oz. mixed mushrooms, such as cremini, shiitake, and white button, thinly sliced
1⁄2 cup olive oil, plus more
2 cloves garlic, thinly sliced
2 sprigs oregano
2 sprigs thyme
Kosher salt and freshly ground black pepper, to taste
5 cherry tomatoes, halved
1 ball Naples-style pizza dough
Fine semolina, for dusting
1⁄4 cup ricotta
1⁄4 cup grated pecorino romano
2 oz. fresh mozzarella, thinly sliced
4-5 fresh basil leaves
Instructions
Step 1
Heat oven to 450°. Toss mushrooms with half each of the oil and garlic, plus oregano and thyme, salt, and pepper on a baking sheet. Bake until well browned, 10-12 minutes; discard oregano and thyme. Toss tomatoes with remaining oil and garlic, plus salt and pepper; set aside.
Step 2
Place a pizza stone under the broiler; heat for 30 minutes. Dust 1 ball dough with semolina. Using your fingertips, press dough into a 10" circle about ¼" thick, leaving a 1" crust around the edges. Hold dough straight up, and with fingertips circling crust, slide fingers around crust in a circular motion as you would turn a steering wheel until dough in the center is stretched to about ⅛" thick; transfer to a semolina-dusted pizza peel. Place mushrooms on one quarter of the circle; fold dough over mushrooms and pinch to seal making a flat "handle." Spread ricotta over the remaining circle of dough and distribute cheeses, tomatoes, and basil leaves; drizzle with oil. Slide pizza onto stone; broil until cheese melts and crust is puffed and charred in spots, 3-4 minutes. Serve hot.