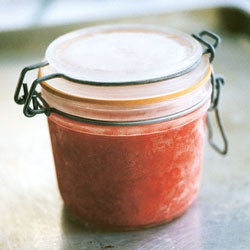 This less-involved method for freezer raspberry jam delivers a brighter fresh-fruit flavor than the cooked version. Do not alter or double the recipe, because the jam won't jell properly.
Yield: makes 6 Half Pints
Ingredients
2 pints fresh raspberries
4 cups superfine sugar
1 (3-oz.) pouch liquid fruit pectin
3 tbsp. fresh lemon juice
Instructions
Crush raspberries in a large bowl. Add sugar, stirring frequently until sugar dissolves, about 20 minutes.
Stir together fruit pectin and lemon juice in a small bowl. Add pectin mixture to berries and stir for 3 minutes.
Pour raspberry mixture into 6 half-pint jars, cover, and set aside at room temperature for 24 hours. Store jam in freezer. Thaw before serving; store opened jam up to 4 weeks in refrigerator.