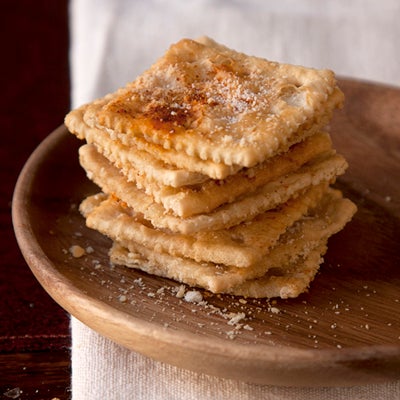 Here is a spicy variation on a simple cracker puff recipe from noted food writer Clementine Paddleford
Red Pepper Cracker Puffs
Here is a spicy variation on a simple cracker puff recipe from noted food writer Clementine Paddleford.
Ingredients
20 unsalted soda crackers
2 1⁄2 tsp. butter, softened
5 tsp. grated parmigiano-reggiano
Cayenne pepper
Instructions
Preheat oven to 450°. Soak crackers in a medium bowl of ice water, a few at a time, until slightly swollen and soft, about 20 seconds. (Don't soak too long, or they'll disintegrate.) Arrange softened crackers in a single layer on a parchment paper–lined baking sheet.
Brush each cracker with 1⁄8 tsp. butter, then sprinkle each with 1⁄4 tsp. of the grated parmigiano-reggiano and a pinch of cayenne. Bake until slightly puffed and golden, 7–10 minutes.