Recipes
Salsa de Tomatillo Asado con Chipotle (Roasted Tomatillo Salsa with Chipotle and Roasted Garlic)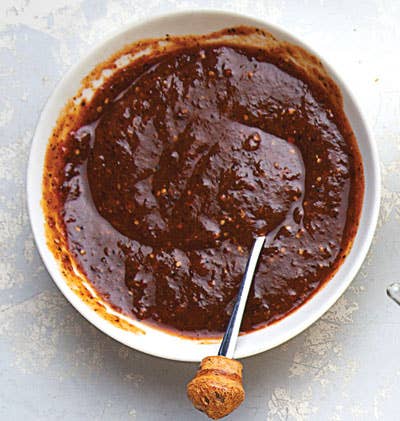 Roasted garlic adds sweet depth to this classic green salsa, best served over steak, tacos, or rice and beans.
Ingredients
8 oz. tomatillos, husked and rinsed
6 cloves garlic, peeled
3 dried chipotle chiles, stemmed
1⁄2 tsp. kosher salt
Instructions
Step 1
Heat oven to 500°. Place tomatillos on a foil-lined baking sheet and roast, turning halfway through cooking, until blackened in spots and cooked through, about 20 minutes; let cool.
Step 2
Meanwhile, heat a 12″ cast-iron skillet over medium-low heat; add garlic and chiles, and toast, turning, until chiles and garlic are blistered and blackened in spots, about 10 minutes. Transfer to a blender along with tomatillos, salt, and 1⁄2 cup water; blend until smooth. Let cool.