Sauerkraut Garnished with Smoked, Cured, and Fresh Pork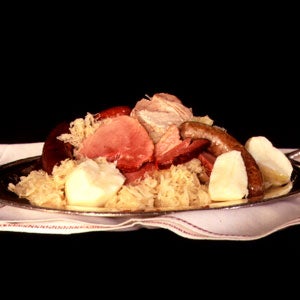 No other dish shows off the richly varied charcuterie of Alsace quite like this one, which was traditionally served at home on Sundays after the family returned from church.
Yield: serves 6-8
Ingredients
1 1⁄2 lb. fresh ham hocks
1⁄4 cup goose fat
3 small yellow onions, peeled and finely chopped
4 1⁄2 lb. sauerkraut, drained and rinsed
3 1⁄4 cups Alsatian riesling or other dry but fruity white wine
1 1⁄2 lb. boneless pork loin
1 lb. smoked ham
1⁄2 lb. slab bacon
1 bouquet garni (2 bay leaves, 1 head garlic, 3 whole cloves, 6 juniper berries, and 5 coriander seeds tied in cheesecloth)
Salt and freshly ground black pepper
12 medium red bliss potatoes, peeled
6 fresh pork sausages, such as saucisse de Strasbourg
3 blood sausages
1 tbsp. canola oil
6 smoked pork sausages, such as saucisse de Montbéliard de Strasbourg
Instructions
Place ham hocks in a large pot. Cover with water and simmer over medium heat for 1 1⁄2 hours. Drain and set aside.
Preheat oven to 350°. Melt goose fat in a dutch oven over medium heat. Add onions, cook until soft, 10-15 minutes, then add sauerkraut, wine, ham hocks, pork loin, ham, bacon, and bouquet garni. Season with salt and pepper, cover, and cook in oven until meats are tender, about 1 1⁄2 hours.
About 35 minutes before serving, place potatoes in a pot of salted water over medium-high heat and cook until tender, 20-25 minutes. Drain and keep warm.
Prick fresh and blood sausages with a fork, then place in a skillet, cover with water, and simmer over medium heat for 10 minutes. Drain. Dry skillet, add oil, and heat over medium heat. Brown fresh and blood sausages, turning occasionally, then remove. In the same oil, adding more if necessary, brown smoked sausages, turning occasionally, then remove. To serve, spoon sauerkraut onto a large platter, discarding bouquet garni. Slice pork loin, ham, and bacon, and arrange on platter with ham hocks, potatoes, and all sausages.