Shredded Beef Salad with Chipotle Dressing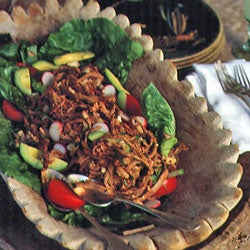 This spicy salad works well with a light-weight red. (Salpicon)
This recipe is from The El Paso Chile Company's Texas Border Cookbook(William Morrow, 1992) by W. Park Kerr and Norma Kerr.
Shredded Beef Salad with Chipotle Dressing
A true border-food classic, this spicy Mexican salad expertly combines crisp vegetables, warm chiles, and shredded beef.
Ingredients
1 5-lb. top-cut beef brisket, trimmed
2 large yellow onions, peeled and sliced
4 cups Beef Stock
4 fresh poblano chiles (or 6 fresh anaheims)
1 7-oz. can chipotle chiles en adobo
2⁄3 cups extra-virgin olive oil
1⁄2 cups fresh lime juice
1⁄3 cups white wine vinegar
Salt
2 cloves garlic, peeled and minced
1⁄2 lb. monterey jack, cubed
1 medium red onion, peeled and diced
3⁄4 cups finely chopped fresh cilantro
1 head romaine lettuce, separated into leaves
3 medium tomatoes, cut into wedges
2 avocados, peeled and cut into wedges
5 radishes, thinly sliced
Instructions
Place brisket in a large pot and scatter with yellow onions. Add stock and enough cold water to cover by 3″. Bring to a boil over medium-high heat, then reduce heat to low, cover, and simmer until fork-tender, about 4 hours, turning midway through cooking time.
Remove pot from heat and let stand uncovered until brisket is cool enough to handle, about 25 minutes. Transfer brisket to cutting surface and shred with two forks or your fingers. Set aside.
Char poblanos over an open flame or under a broiler, turning to blacken all over. Place in a paper bag, close, and steam 15 minutes. Rub off skin and remove stems. Slice open, scrape out veins and seeds, and cut into strips.
Drain chipotles, reserving adobo sauce. Seed and chop chipotles, then whisk with oil, lime juice, vinegar, salt, and garlic in a large mixing bowl. If sauce is not spicy enough, add reserved adobo sauce. Stir in beef, poblanos, cheese, red onions, and cilantro.
To serve, arrange salpicón (beef mixture) on a bed of romaine leaves, and garnish with tomatoes, avocados, and radishes.