Smashed Cucumbers with Ginger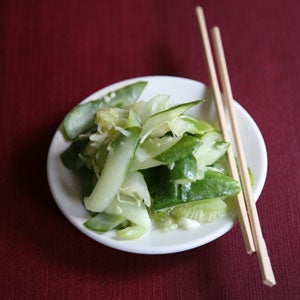 This easily made pickle is a great side dish for both Asian and Western courses.
Yield: serves 4
Ingredients
4 kirby cucumbers
Kosher salt
1 (1″) piece fresh ginger, peeled
1 tbsp. sugar
1 1⁄2 tsp. rice wine vinegar
1 tsp. sesame oil
2 cloves garlic, roughly chopped
Instructions
Cut cucumbers into irregular chunks about 2″ long and ¼" thick. Transfer cucumber slices to a medium bowl, sprinkle with 2 tsp. of kosher salt, mix, and set aside at room temperature to extract excess liquid and let them soften, about 1 hour.
Meanwhile, julienne ginger; transfer to a medium bowl and set aside.
Drain and gently squeeze cucumbers to extract more liquid, then pat dry with a towel. Add cucumbers to the bowl of ginger along with sugar, vinegar, sesame oil, and garlic. Toss to combine and season with kosher salt, to taste.
Let rest at room temperature for at least 15 minutes before serving to allow the flavors to come together.