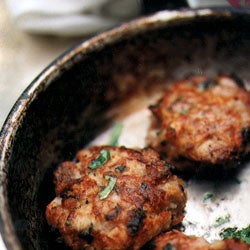 Native Hawaiians used every part of the taro plant for their traditional island diet. They believe that they descended from taro—that it was their source. As long as taro survives, it is thought, so will their people.
Taro Cakes
These traditional Hawaiian "cakes" are enriched with ahi tuna, adding an unusual, flavorful twist.
Ingredients
1 large taro root
2 tbsp. butter
1 1⁄2 lbs. ahi tuna, chopped
1 onion, diced
2 garlic cloves, minced
1 shallot, diced
1 green onion, chopped
1 tsp. salt
1 egg
1⁄4 cups cornstarch
1 tbsp. baking powder
1⁄2 cups cream
1⁄4 cups cilantro leaves, coarsely chopped
1 tbsp. lemon juice
Instructions
Steam taro root in a covered pan, with a bit of water in a 350° oven until tender, about 1 hour. Cool, peel, and coarsely grate. Set aside.
While taro cooks, melt butter in a sauté pan and sauté tuna with onions, garlic, shallots, and green onions for 7 minutes. Cool.
Add salt, taro, egg, cornstarch, baking powder, cream, cilantro, and lemon juice to tuna mixture. Mix well and shape into cakes. Fry in a little butter until golden brown on both sides. Garnish with cilantro, if you like.