Tex–Mex Cheese Enchiladas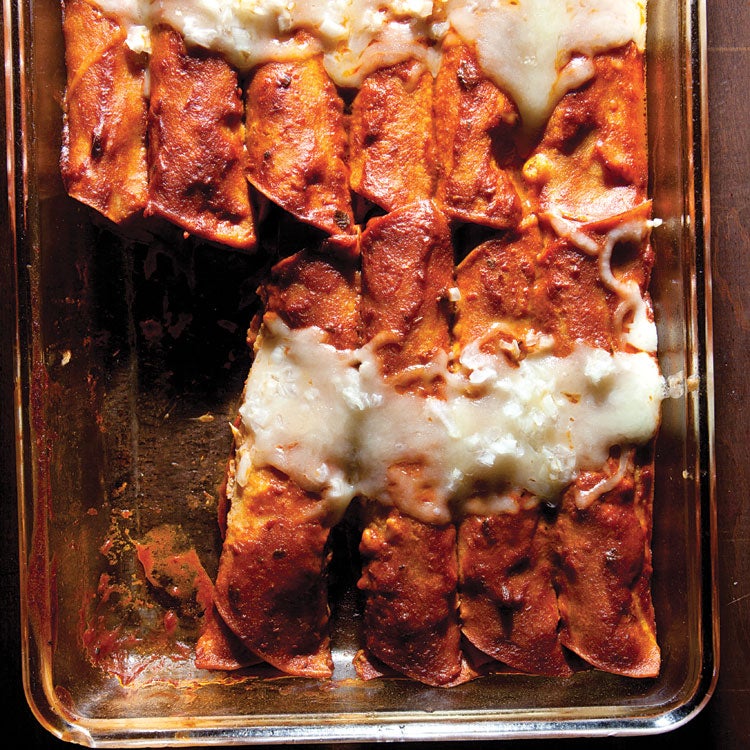 Classic Tex-Mex enchiladas are just corn tortillas dipped in red chile sauce, rolled around shredded Monterey Jack, baked with more sauce and cheese on top, and scattered with chopped onions. The flavors are direct and intense. This version, served at the Texas governor's mansion when George W. Bush was in residence, yields enchiladas as good as any I've ever had. —Colman Andrews, from "Chile Dip" (April 2002)
Tex-Mex Cheese Enchiladas
Corn tortillas dipped in red chile sauce, stuffed with Monterey Jack, and baked with more sauce and cheese on top, then scattered with chopped onions.
Ingredients
4 cups chicken stock
4 large ancho chiles, stemmed and seeded
1 3⁄4 cups canola oil
1 large yellow onion, finely chopped
3 cloves garlic, finely chopped
2 tbsp. flour
4 tsp. ground cumin
1 1⁄2 tsp. dried oregano
Kosher salt and freshly ground black pepper, to taste
12 corn tortillas
12 oz. Monterey Jack cheese, finely grated
Instructions
Bring stock and chiles to a boil in a 4-qt. saucepan over medium-high heat; cook until chiles are soft, about 10 minutes. Remove from heat and set aside. Heat 2 tbsp. oil in a 10″ skillet over medium-high heat; add 2⁄3 of the onion, and cook until soft, about 5 minutes. Transfer to a blender along with chiles and 1 cup cooking liquid, and garlic, and purée until smooth; set aside.
Heat 2 tbsp. oil in a 12″ skillet over medium heat. Add flour, and cook, stirring, until smooth, about 2 minutes. Add chile purée, remaining cooking liquid, cumin, and oregano, and season with salt and pepper; reduce heat to medium-low, and cook, stirring often, until sauce thickens, about 30 minutes. Keep sauce warm over low heat.
Heat oven to 400°. Heat remaining oil in a 10″ skillet over medium heat. Add 1 tortilla, and fry, turning once, until pliable, about 5 seconds. Using tongs, transfer tortilla to sauce, and turn to coat completely, letting excess drip back into skillet. Transfer to a large plate, and scatter with 1⁄4 cup cheese; roll tortilla around cheese into a tight cylinder, and transfer to a 9″x13″baking dish, seam side down. Repeat process with remaining tortillas and 2 3⁄4 cups cheese. Pour remaining sauce over enchiladas and sprinkle with remaining cheese and onions; bake until cheese melts and enchiladas are hot, about 10 minutes.