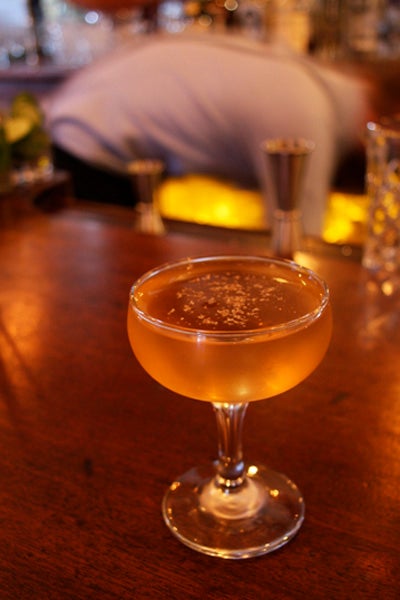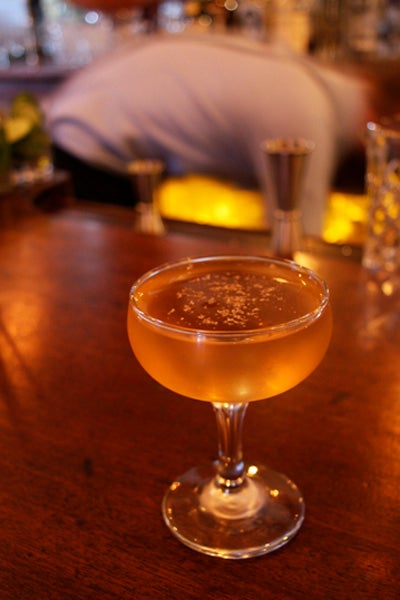 The name references an obscure prog rock album from the 1970s, but the drink itself is an elegant champagne cocktail that Boelte created for wedding toasts. "It's ridiculously fall," Boelte said, "with the apple brandy and the St. Germain, which is flavored with elderflower but actually has a base of pear brandy." Nutmeg, a spice many people associate above all with pumpkin pie, amps up the overall autumnal feeling. Read the article on how Damon Boelte, bar director at Prime Meats, New York, uses nutmeg: Nutmeg Cocktails for the Holidays
The Long Hello
The name references an obscure prog rock album from the 1970s, but the drink itself is an elegant champagne cocktail that Boelte created for wedding toasts. "It's ridiculously fall," Boelte said, "with the apple brandy and the St. Germain, which is flavored with elderflower but actually has a base of pear brandy." Nutmeg, a spice many people associate above all with pumpkin pie, amps up the overall autumnal feeling.
Ingredients
3⁄4 oz. Clear Creek Apple Brandy
3⁄4 oz. St. Germain Elderflower Liqueur
1 dash Fee Brothers Whiskey Barrel Aged Bitters
Champagne to top
Grated nutmeg
Instructions
Stir brandy, St. Germain, and bitters in a mixing glass with ice and strain into a coupe glass. Top with champagne and grate nutmeg on top.