Tarte aux Myrtilles (Wild Berry Tart)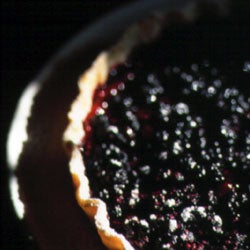 Growing wild in the mountains of the French Alps, myrtilles are similar to wild blueberries and often find themselves in the wonderful berry tarts typical of Savoyard desserts.
Yield: serves 8
Ingredients
FOR THE PASTRY:
1¼ cups all-purpose flour
½ tsp. salt
2 tsp. sugar
1 stick cold unsalted butter
FOR THE FILLING:
3 cups myrtilles, or blueberries
⅓ cups granulated sugar
⅓ cups raspberry preserves
2 tbsp. confectioners' sugar
Instructions
Sift flour, salt, and sugar together into a bowl. Cut butter into small pieces and blend into flour until mixture resembles coarse cornmeal. Sprinkle 4 tbsp. ice water into flour, 1 tbsp. at a time, mixing well after each addition. Gather dough into a ball, wrap in plastic, and refrigerate for at least 1 hour.
Place myrtilles and granulated sugar in a small saucepan and cook over medium heat until sugar has dissolved. Remove myrtilles with a slotted spoon and set aside. Reduce juice and sugar until slightly thickened. Return myrtilles to pan, remove from heat, and set aside to cool.
Preheat oven to 375°. Roll out pastry ¼" thick on a floured surface, and place it in a 9″ tart pan. Prick all over with a fork, cover with foil, weight with dried beans, and bake for 20 minutes. Cool completely.
Spread raspberry preserves over cooled tart shell and spoon myrtilles over top. Sprinkle with confectioners' sugar.